OVERVIEW
Pulmonary embolism (PTE, PE) ranges from asymptomatic to a life threatening catastrophe
PE occurs when a deep vein thrombosis migrates to the pulmonary arterial tree
Types
massive PE is defined as acute PE with obstructive shock or SBP <90 mmHg
submassive PE is acute PE without systemic hypotension (SBP ≥90 mm Hg) but with either RV dysfunction or myocardial necrosis
those with none of the above severe features are non-massive or low risk PEs
PATHOPHYSIOLOGY
effects are proportional to the rapidity and degree of obstruction
increased PVR -> RVF -> obstructive shock
increased alveolar dead space -> V/Q mismatch -> pulmonary vasoconstriction to optimize gas exchange
pulmonary infarction
chronic pulmonary hypertension can ensue
OVERALL APPROACH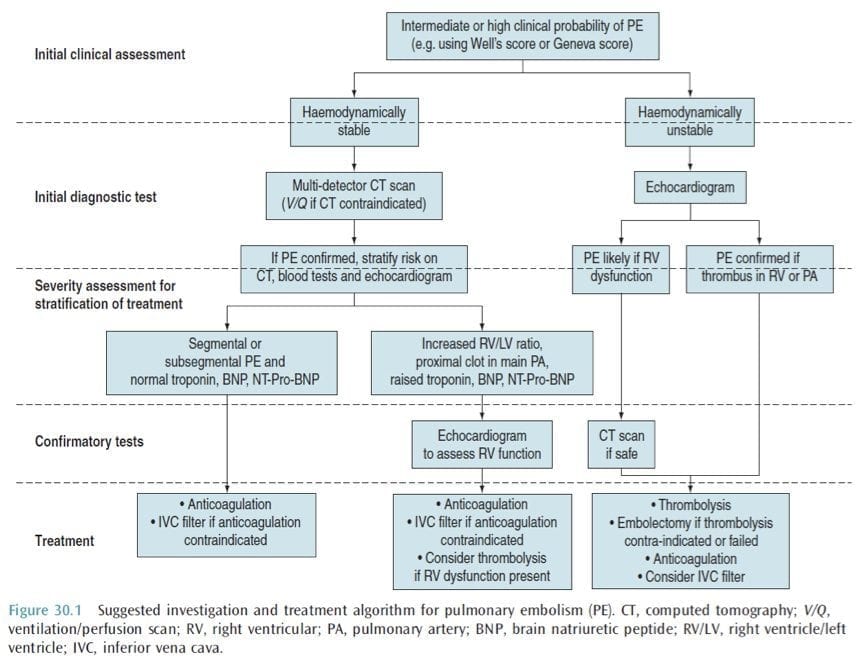 CLINICAL FEATURES
History
may be asymptomatic
SOB
pleuritic chest pain
apprehension
cough
haemotypsis
leg pain
collapse = massive PE
acute cardiovascular collapse
Examination
pale, mottled skin
tachypnoea
tachycardia
signs of DVT
hypotension
altered LOC
elevated JVP
parasternal heave
loud P2
central cyanosis
RISK FACTORS
Major (relative risk 5-20) – SLOMMP
Surgery – major abdominal/pelvic, hip/knee replacements, post ICU
Lower limb problems – #, varicose veins
Obstetrics – late pregnancy, C/S, puerperium
Malignancy – abdominal/pelvic, advanced/metastatic
Mobility – hospitalization, institutional care
Previous VTE
Minor (relative risk 2-4) – COM
Cardiovascular – congenital heart disease, CHF, HT, superficial venous thrombosis, CVL
Oestrogens – OCP, HRT
Miscellaneous – COPD, neurological disability, occult malignancy, thrombotic disorder, long distance travel, obesity, other (IBD, nephrotic syndrome, dialysis, myeloproliferative disorders, paroxysmal nocturnal haemoglobinuria, Bechet's disease)
Thrombophillias
Factor V Leiden mutation
Prothombin gene mutation
Hyperhomocysteinaemia
Antiphospholipid antibody syndrome
Deficiency of antithrombin III, protein C or protein S
High concentrations of factor VIII or XI
Increased lipoprotein (a) -> test in those < 50years with recurrent or a strong FHx
INVESTIGATIONS
goal = confirm diagnosis + assess severity
normal compliance and peak pressures on ventilator
increased PACO2 -> ETCO2 to gradient
hypoxaemia
ECG:
-> mostly normal -> sinus tachycardia -> SI, QIII, TIII -> non specific ST changes or TWI in anterior leads (right heart strain), -> right axis deviation -> s wave (I and aVL) > 1.5mm -> Q wave in III and aVF -> p pulmonale -> RBBB
CXR: rules out other pathology, focal oligaemia, wedge density (pulmonary infarction)
ABG: reduced PaO2 in keeping with size of PE, metabolic acidosis with circulatory collapse, respiratory alkalosis
D-Dimer: reassuring if negative to exclude PE, use in conjunction with clinical probability
TNT: elevation is associated with adverse outcome even in normotensive patients, also associated with haemodynamic instability in patients with non-massive PE
BNP and NT-terminal BNP: if low correlates well with uneventful course
CTPA: as good as pulmonary angiography (gold standard), can calculate RV/LV ratio (>0.9) = severe
ECHO: RV dialation, paradoxical septal motion towards the LV, TR, RVF, PHT or PA thrombus on TOE,
US: leg veins (not as accurate as initially thought -> have low threshold to re-scan)
V/Q scan: only really used now when CT is contraindicated (normal scan, low, intermediate and high probability with various criteria)
MRI – high rate of technical difficulty and insufficient sensitivity (PIOPED III study)
MANAGEMENT
Grade severity of PE
MASSIVE – haemodynamically unstable -> thrombolyse/embolectomy
SUB-MASSIVE – haemodynamically stable with evidence of RV dysfunction -> strongly consider thrombolysis/embolectomy but need to balance risk of bleeding
NON-MASSIVE – haemodynamically stable with normal RV function -> anticoagulation
Management Goals
(1) prevent further embolism (2) removal of emboli (massive or sub-massive) (3) haemodynamic support (massive)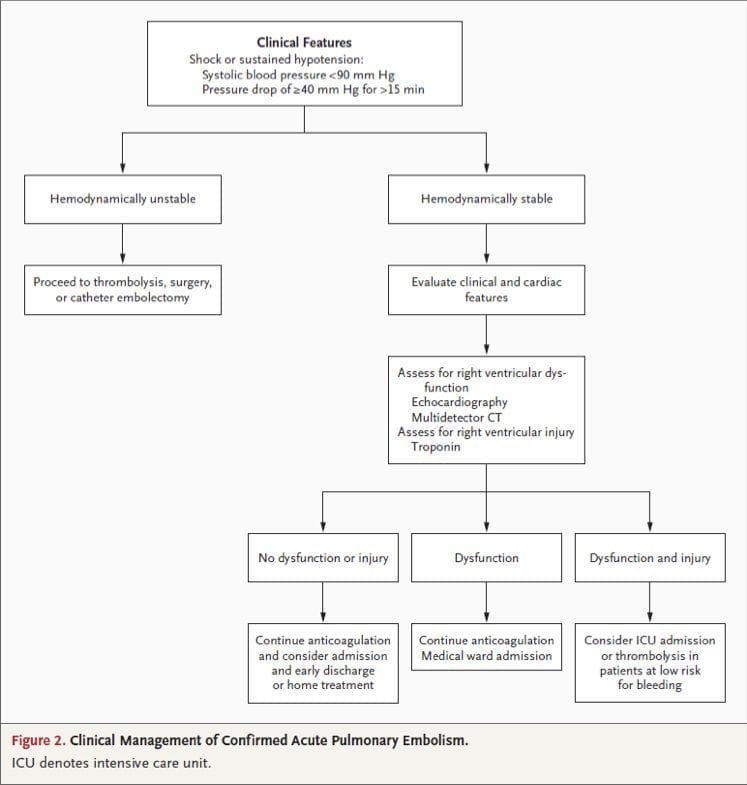 Resuscitation
A – may need intubation if in cardiovascular collapse or cardiac arrest
B – high flow O2 as a pulmonary vasodilator, ventilation to optimize V/Q mismatch, hyperventilation to clear CO2
C – invasive monitoring, fluid management to optimize right ventricular function, inotropic support, cautious fluid boluses, use milrinone, noradrenaline or adrenaline (rather than alpha agonists)
Specific Treatment
THROMBOLYSIS
not used in non-massive or low risk PEs
use in submassive PEs is contentious – doesn't reduce mortality but does reduce deterioration
can be used up to 14 days after symptoms begin
PE resolve more quickly than with heparin alone
as successful as embolectomy in massive PE (earlier the better)
indicated in patients with RV compromise + haemodynamically unstable
rTPA 1.5mg/kg is maximum dose (as good through peripheral IV or CVL)
alteplase 100 mg (0.6mg/kg) as a continuous infusion over 2 hours
contraindications: absolute – bleeding, recent stroke, HI, current GI bleeding, relative – PUD, surgery within 7 day, prolonged CPR
follow straight away with heparin
if bleeds -> FFP and anti-fibrinolytics
ANTICOAGULATION
use UFH as first dose, in massive PE and where reversal may be required
start immediately when there is a suspicion (prior to imaging)
LMWH as good as heparin
give straight after thrombolysis
then needs warfarin (INR 2-3)
SURGICAL
embolectomy (massive PE and unresponsive to thrombolysis or is contraindicated)
right heart catheterisation with clot destruction
IVC filter (high risk of further embolic or recurrent PE despite adequate anticoagulation, contraindications to anticoagulation, extensive DVT, massive PE)
OTHER THERAPIES
ECMO – its role in PE is not established but anecdotally is very effective
IABP – has been used with vasoactive medications
Nitric oxide – has been used with some effect
UNDERLYING CAUSE
prophylaxis
modify risk factors
diagnose thrombophillia
METABOLIC
proportional to the degree of shock
may have a metabolic acidosis from hyperlactataemia from circulatory compromise
---
References and Links
LITFL
Journal articles
---
Chris is an Intensivist and ECMO specialist at the Alfred ICU in Melbourne. He is also a Clinical Adjunct Associate Professor at Monash University. He is a co-founder of the Australia and New Zealand Clinician Educator Network (ANZCEN) and is the Lead for the ANZCEN Clinician Educator Incubator programme. He is on the Board of Directors for the Intensive Care Foundation and is a First Part Examiner for the College of Intensive Care Medicine. He is an internationally recognised Clinician Educator with a passion for helping clinicians learn and for improving the clinical performance of individuals and collectives.
After finishing his medical degree at the University of Auckland, he continued post-graduate training in New Zealand as well as Australia's Northern Territory, Perth and Melbourne. He has completed fellowship training in both intensive care medicine and emergency medicine, as well as post-graduate training in biochemistry, clinical toxicology, clinical epidemiology, and health professional education.
He is actively involved in in using translational simulation to improve patient care and the design of processes and systems at Alfred Health. He coordinates the Alfred ICU's education and simulation programmes and runs the unit's education website, INTENSIVE.  He created the 'Critically Ill Airway' course and teaches on numerous courses around the world. He is one of the founders of the FOAM movement (Free Open-Access Medical education) and is co-creator of litfl.com, the RAGE podcast, the Resuscitology course, and the SMACC conference.
His one great achievement is being the father of three amazing children.
On Twitter, he is @precordialthump.
| INTENSIVE | RAGE | Resuscitology | SMACC