aka Ophthalmology Befuddler 010
A mechanic presents to the emergency department saying "I've got something in my eye, Doc"
Early in the day he was cleaning up the workshop and felt something get in his right eye, he then rinsed his eye out with water. Over the course of the day the irritation worsened, his eye is constantly watering and its becoming red.
With the slit lamp you see this: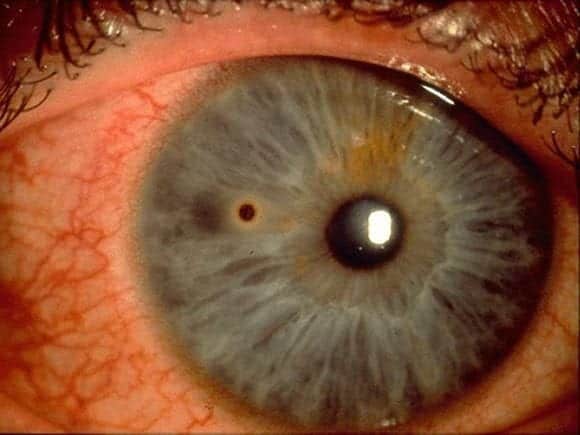 Questions
Q1. What is the diagnosis?
Answer and interpretation

Corneal foreign body with rust ring

The foreign body is at about 9 o'clock o the surface of the cornea, midway across the iris. A rust ring and conjunctival injection is present.
---
Q2. What the important features to consider on history and examination?
Answer and interpretation

History:

What type of foreign body? — e.g. dirt or organic material (higher risk of infection), glass, metal (rust ring may lead to inflammation and a corneal epithelial defect), inorganic material
Velocity of impact? — e.g. angle grinders, high speed drilling and 'weed eater' injuries are at risk of corneal or scleral penetration.
Symptoms? — foreign body sensation, tearing, blurred vision.
Use of eye protection?

Examination:

Visual acuity — reduced if central foreign body or penetrating trauma

Slit lamp exam and tonometry:

Assess size, site, nature of foreign body, and depth of injury
Determine if a rust ring is present.
Conjunctival injection, eyelid edema, mild AC reaction, and SPK may be present.
Examine closely for iris tears and transillumination defects, lens opacities, AC shallowing, and asymmetrically low IOP in the involved eye.
Distortion of the cornea, anterior chamber, iris, pupil or lens indicates ocular penetration.

Handy tips:

Remember to evert the eyelids in the quest for foreign bodies.
Don't fall into the trap of settling for one foreign body — there may be more!
Beware of self-sealing lacerations — Seidel test may be helpful but does not rule out corneal lacerations. [Erich Seidel (1882 – 1948)]

Seidel positive Test (RootAtlas)
---
Q3. What features may indicate can occult foreign body under an eyelid?
Answer and interpretation

Vertically orientated linear corneal abrasions or the presence of superficial punctate keratopathy (SPK).
---
Q4. What features suggest concomitant infection in a patient with a corneal injury?
Answer and interpretation

The presence of a corneal infiltrate with:

significant anterior chamber reaction
pain
severe conjunctival injection
purulent discharge

If these features are present, the following may be required:

eye swab and culture
treat with antibiotics
close follow up by an ophthalmologist.
---
Q5. What methods may be used for removing corneal foreign bodies? What are their advantages and disadvantages?
Answer and interpretation

The general procedure is:

apply topical anesthesia e.g. 1% amethiocaine
position the patient at the slit lamp — ask him or her to keep still by by pressing against the forehead rest and to focus on your ear (if its clean…) or a target over the your shoulder.
focus the slit lamp on the foreign body.
approach the foreign body from an oblique to reduce the risk of causing damage.
steady the hand removing the foreign body on the frame of the slit lamp or head rest.

The foreign body may be removed using different devices:

cotton bud aka Q-tip — good for superficial foreign bodies that can be swept away and atraumatic. Useless for adherent foreign bodies.
18G-30G needle — readily available, easily to perform with practice, and skilled practitioners leave little trauma. There is obvious potential for causing damage. The tip should always be pointed away from the globe so that the beveled edge is used to scrape the foreign body. Some patients freak out at the idea of a needle being in contact with their eye so the doctor needs a well developed sense of aequanimitas…
Motorised dental burr — the lack of a sharp tip is reassuring but excessive use can create a significant epithelial defect.

Removing a metal foreign body from the cornea

---
---
Q6. Are conjuctival foreign bodies treated differently?
Answer and interpretation

These are generally less serious and can be removed using fine forceps or a cotton bud. A good tip is to soak the tip of the cotton bud in 2.5% phenylephrine to reduce bleeding if present. A sweep under the eyelids may be necessary.

Follow up is as required, or at 1 week if the foreign body was incompletely removed (it may surface with time).
---
Q7. Should you pad/ patch the eye?
Answer and interpretation

There is no evidence that eye patches are helpful. They may even be harmful due to loss of binocular vision. A meta-analysis has shown that for small corneal abrasions there is no benefit from patching the eye.
---
Q8. Should antibiotic eye drops or ointment be used?
Answer and interpretation

They are both effective. Drops have the advantages of being less messy and allow the patient to see out of both eyes.
---
Q9. What is appropriate follow up for a patient following removal of a corneal foreign body?
Answer and interpretation

Daily follow up for slit lamp and fluorescein examination to comparatively measure the extent of the defect and assess healing would be ideal, but in practice I tend to get them followed up after 2-3 days to save on slit lamp light bulbs…
---
Q10. When should a patient with a corneal foreign body be referred to an ophthalmologist?
Answer and interpretation

If the foreign body — or an associated rust ring — is not completely removed follow up should be arranged within 24 hours.
Opthalmology review is required if there is a persistent epithelial defect (>3 days)
Ocular penetration
---
Q11. What advice should be given to a contact lens wearer who had a corneal foreign body?
Answer and interpretation

Contact lens use should be avoided until the defect is fully healed or feels normal for at least 1 week.
---
---

Chris is an Intensivist and ECMO specialist at the Alfred ICU in Melbourne. He is also a Clinical Adjunct Associate Professor at Monash University. He is a co-founder of the Australia and New Zealand Clinician Educator Network (ANZCEN) and is the Lead for the ANZCEN Clinician Educator Incubator programme. He is on the Board of Directors for the Intensive Care Foundation and is a First Part Examiner for the College of Intensive Care Medicine. He is an internationally recognised Clinician Educator with a passion for helping clinicians learn and for improving the clinical performance of individuals and collectives.
After finishing his medical degree at the University of Auckland, he continued post-graduate training in New Zealand as well as Australia's Northern Territory, Perth and Melbourne. He has completed fellowship training in both intensive care medicine and emergency medicine, as well as post-graduate training in biochemistry, clinical toxicology, clinical epidemiology, and health professional education.
He is actively involved in in using translational simulation to improve patient care and the design of processes and systems at Alfred Health. He coordinates the Alfred ICU's education and simulation programmes and runs the unit's education website, INTENSIVE.  He created the 'Critically Ill Airway' course and teaches on numerous courses around the world. He is one of the founders of the FOAM movement (Free Open-Access Medical education) and is co-creator of litfl.com, the RAGE podcast, the Resuscitology course, and the SMACC conference.
His one great achievement is being the father of three amazing children.
On Twitter, he is @precordialthump.
| INTENSIVE | RAGE | Resuscitology | SMACC