Elderly patient with accidental overdose of sotalol. Describe the ECG.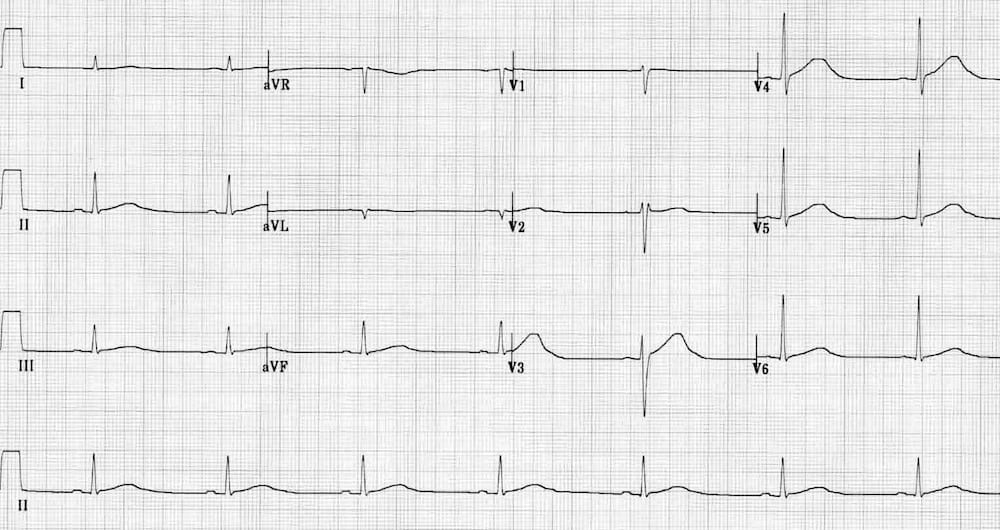 ---
Describe and interpret this ECG
ECG ANSWER and INTERPRETATION

Main Abnormalities

This ECG demonstrates the key features of sotalol toxicity:

Sinus bradycardia (42 bpm)
Very long QT interval (~600 ms).

Sotalol is a beta blocker with additional class III effects (potassium channel blockade), so it causes both bradycardia and QT prolongation in overdose.

Risk of Torsades

In comparison to ECG Quiz 022, this patient is at significant risk of TdP.
The combination of bradycardia and significant QT prolongation means that this patient plots well above the "at risk" line on the QT nomogram.
Prophylaxis of TdP in this case would include correction of QT-dependent electrolytes (K, Mg, Ca) to the high-normal range and positive chronotropy (e.g. with isoprenaline) to move the patient below the at-risk line.
---
Emergency Physician in Prehospital and Retrieval Medicine in Sydney, Australia. He has a passion for ECG interpretation and medical education | ECG Library |