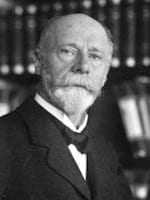 Willem Einthoven (1860 – 1927) was a Dutch physician and physiologist.
Invented the first practical electrocardiogram (ECG) in 1903. Awarded the Nobel Prize in Physiology or Medicine 1924 for his 'discovery of the mechanism of the electrocardiogram'.
---
Biography
Born 21 May 1860 Semarang, Java
1870 – Returned to Holland aged 10
1885 – Doctorate, University of Leiden
1886 – Professor of physiology at the University of Leiden
Died 29 September 1927
Key Medical Attributions
1887 – Having seen a demonstration of Augustus D Waller's "electrogram" (a device that recorded minute deviations on a mercury column when electrically stimulated) in 1887, he improved it by creating the "string galvanometer".
1901 – Einthoven published his first recordings from the 'elektrokardiogramm' (EKG).
Einthoven assigned the letters P,Q,R,S, and T in electrocardiographic terminology.
---
Medical Eponyms
Einthoven galvanometer
Einthoven law
Einthoven triangle
---
Major Publications
Einthoven W. Uber die Form des menschlichen Electrocardiogramms. Arch f d Ges Physiol. 1895;60:101–123.
Einthoven W. Galvanometrische registratie van het menschelijk electrocardiogram. in: Herinneringsbundel Professor S. S. Rosenstein. Eduard Ijdo, Leiden; 1902:101–107.
Einthoven W. A new galvanometer. Annals of Physics 1903; 12:1059-1071
Einthoven W. The galvanometric registration of the human electrocardiogram, at the same time an assessment of the application of the capillary electrometer in physiology. Bonn: Emil Strauss
Einthoven W. Flohil A, Battaerd PJJA. The registration of human heart sounds by means of the string galvanometer. Archive for the Whole Physiology of Man and Animals 1907; 117: 461-472
Einthoven W. The different forms of the human electrocardiogramn and their signification. Lancet 1912;i:853-61.
Einthoven W. Le telecardiogramme. Arch Int de Physiol 1906;4:132–64 [English translation: Am Heart J 1957;53: 602–15].
---
References
--- eponym
the person behind the name