Addressing flank pain or renal masses
When you want to image the genitourinary system, the CT scanner is the place to be! In the next few lessons, we will discuss a number of specialty genitourinary examinations. We review scans to evaluate flank pain, renal masses and haematuria
CT evaluation of flank pain
A flank pain study is a non-contrast CT, where the patient is usually asked to drink water rather than bright oral contrast. Drinking water can help to distend the urinary system and make it easier to view.
This exam is designed to detect kidney stones. So, when reading these studies, I usually jump straight to evaluating the kidneys, ureters, and bladder to see if kidney stones may be the reason for the patient's flank pain.
Example 1: kidney stone
The right kidney collecting system is dilated. This is due to a bright, calcified stone lodged in the ureter at its junction with the bladder (vesicoureteric junction VUJ). It is common for stones to become lodged here, right before they pass into the bladder.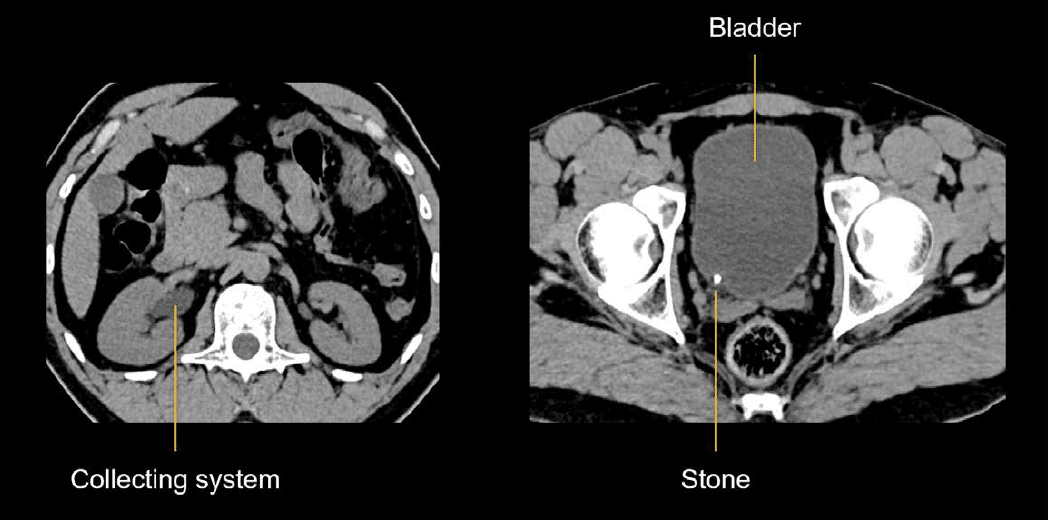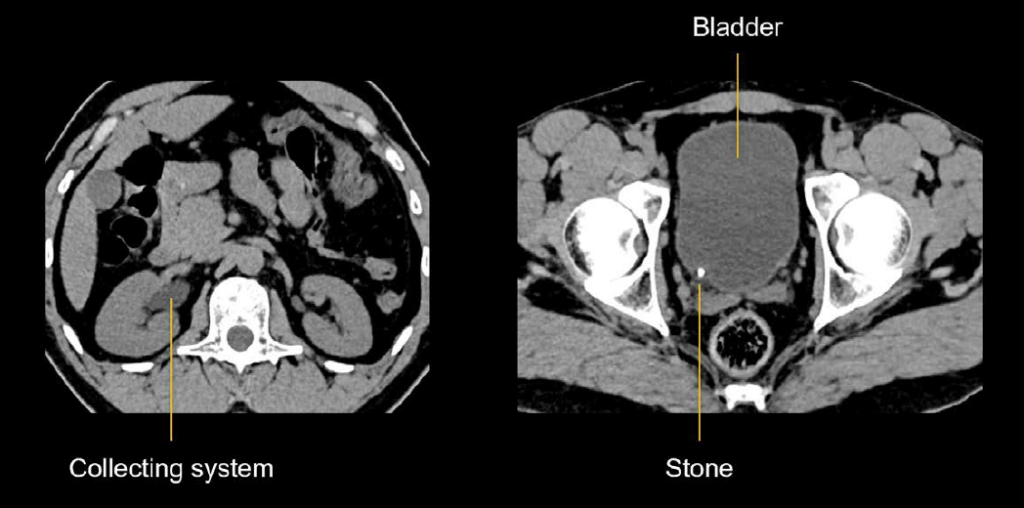 Example 2: kidney stone
In the next example, you can see a larger stone stuck in the renal pelvis of the kidney as it converges to form the ureter (pelviureteric junction PUJ). This is causing obstruction and dilation of the kidney.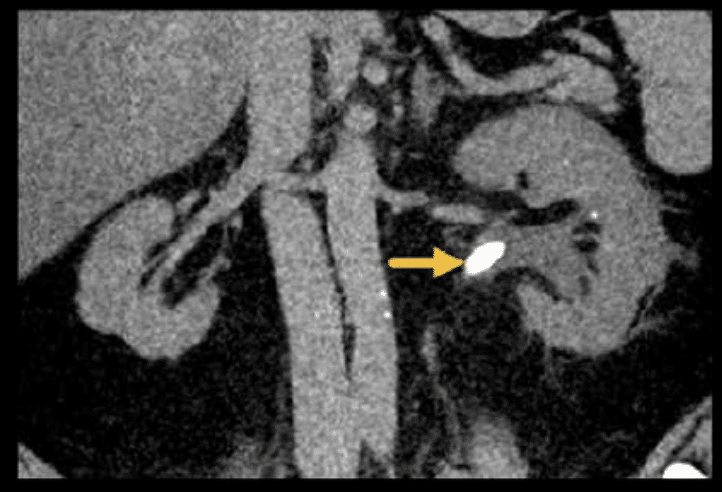 Other common pathology can be diagnosed or ruled out using a non-contrast technique like the flank pain exam. So, after checking for stones, check for other important causes of acute abdominal pain like appendicitis, diverticulitis, or cholecystitis
---
Identifying renal masses
It is common to encounter a renal mass on a portal venous phase CT and wonder if it is truly enhancing or not. To help determine just what you are looking at, you can measure the density of the mass using the picture archiving and communications system (PACS) viewer.
Low density lesions are usually a benign cyst.
High density lesions are either an enhancing mass or hyperdense cyst (with blood or protein making it more dense than simple fluid).
Enhancing lesions are concerning for an abnormal mass – and possibly a cancer such as renal cell carcinoma.
Example 3: left renal mass
In the contrast-enhanced image shown below, we see a round left renal mass, but we need to determine if it is a tumour. It is more dense than simple fluid.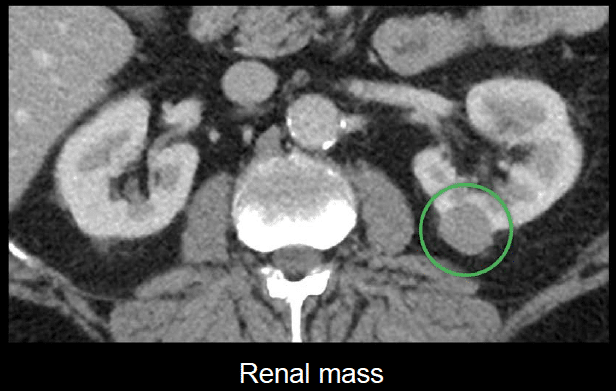 How can CT help us differentiate a tumour from a hyperdense cyst?
Using a special CT protocol to characterise renal masses with three phases:
Non-contrast: baseline for assessing true enhancement.
Corticomedullary: occurs at 40–70 seconds and is best for looking at the renal cortex and vasculature.
Nephrographic: slightly delayed series that typically occurs at 80–120 seconds – useful for looking for subtle lesions.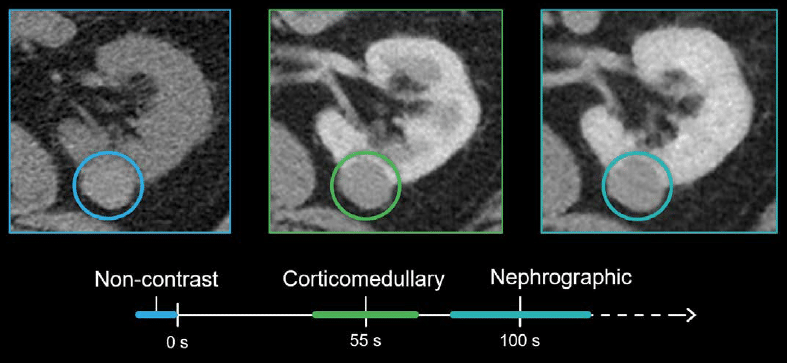 This protocol allows us to check a renal mass at three time points to see if its density changes, and it also allows us to carefully evaluate the kidneys for other masses.
There are three possibilities when looking at the density of the enhancing mass:
Density changes less than 10 Hounsfield units (HU): The lack of a substantial change in density can help you to make the diagnosis of a hyperdense cyst.
Density changes 10–20 HU: In this range, it is unclear if the difference is due to true enhancement or simply from the nearby kidney taking up contrast. These borderline cases may need MRI or follow-up imaging to check stability.
Density increases by more than 20 HU: In this scenario, you might be looking at a tumour.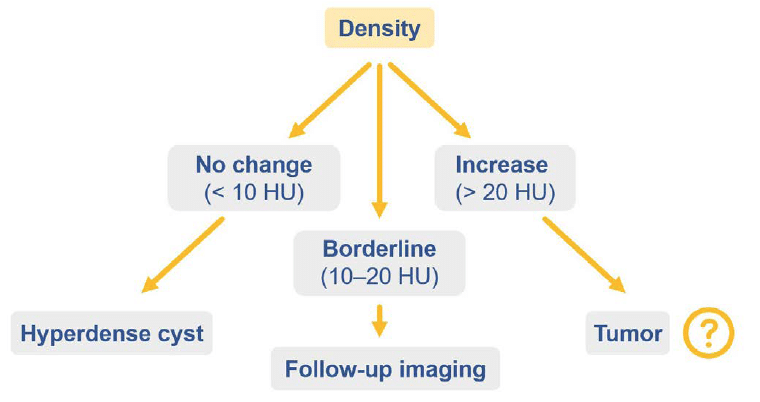 Note that if the mass is smaller than 1 cm, comparing the density change on CT may be less reliable, and MRI is often the better choice for diagnosis.
---
This is an edited excerpt from the Medmastery course Abdominal CT Essentials by Michael P. Hartung, MD. Acknowledgement and attribution to Medmastery for providing course transcripts.
References
Radiology Library: Abdominal CT Basics
---
Abdominal CT interpretation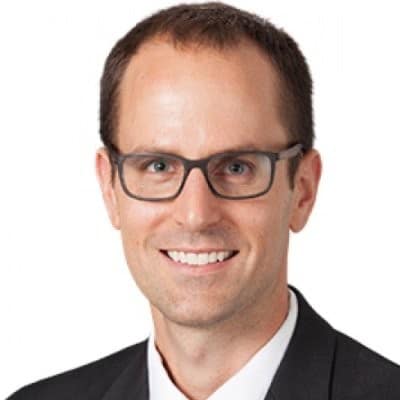 Associate Professor Curtin Medical School, Curtin University. Emergency physician MA (Oxon) MBChB (Edin) FACEM FFSEM Sir Charles Gairdner Hospital.  Passion for rugby; medical history; medical education; and asynchronous learning #FOAMed evangelist. Co-founder and CTO of Life in the Fast lane | Eponyms | Books | Twitter |