Ordering a urogram
Let's consider the scenario of an older patient presenting with blood in the urine. We not only have to think about the possibility of renal stones as the cause of the bleeding but also the possibility of renal tumours or urothelial tumours in the collecting system, ureters, and bladder.
In this case, the CT urogram is the exam of choice as it allows you to see the entire genitourinary tract by including three series:
Non-contrast
Nephrographic phase
Excretory phase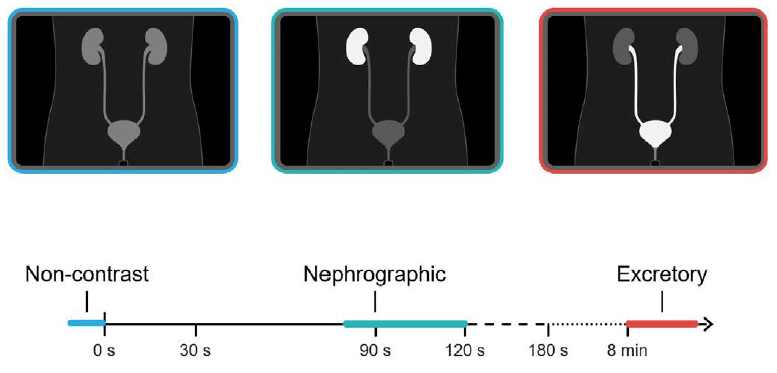 Nephrographic phase
The nephrographic phase is very similar to the portal venous phase, only slightly later at about 80–120 seconds after contrast is given. The phase provides the best view of the renal cortex to look for masses, but it is also great for looking at the other abdominal organs and bowel
Excretory phase
The excretory phase images are even more delayed, at eight or more minutes after contrast is given. This delay allows the contrast to mix with the urine excreted by the kidneys, making it bright, and enabling you to see the inside of the collecting system, ureters, and bladder in order to evaluate for masses.
Example 1
In the non-contrast image below, the kidneys look relatively gray and blend in with other soft tissue structures.
In the nephrographic phase, the kidneys really light up and give us the best chance to evaluate the tissue for abnormal enhancement or masses.
Finally, after waiting eight minutes, the collecting system has filled with contrast-opacified urine, which allows us to see the inside of the urinary system, from the ureters to the bladder.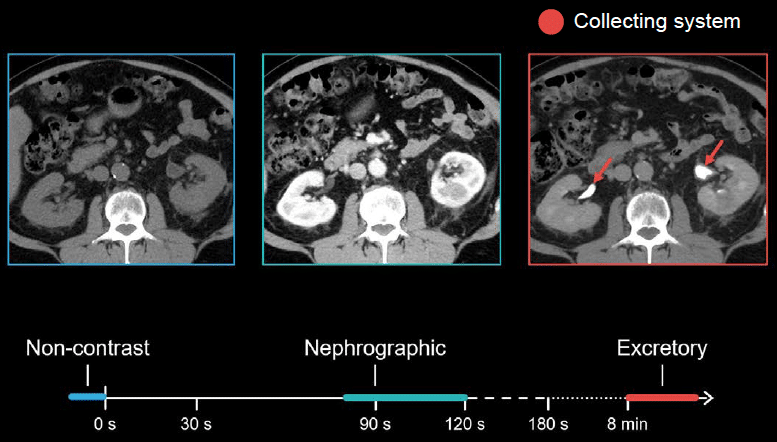 Because a CT urogram requires multiple series, it is best to approach your review of this examination as a checklist, with each series providing essential information.
Checklist for kidney stones and kidney masses
Kidney stones
Kidney masses
Collecting system
Ureters
Bladder
---
This is an edited excerpt from the Medmastery course Abdominal CT Essentials by Michael P. Hartung, MD. Acknowledgement and attribution to Medmastery for providing course transcripts.
References
Radiology Library: Abdominal CT Basics
---
Abdominal CT interpretation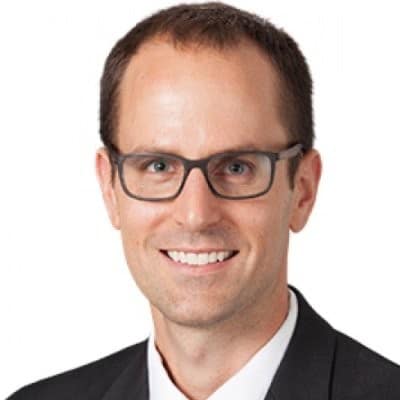 Associate Professor Curtin Medical School, Curtin University. Emergency physician MA (Oxon) MBChB (Edin) FACEM FFSEM Sir Charles Gairdner Hospital.  Passion for rugby; medical history; medical education; and asynchronous learning #FOAMed evangelist. Co-founder and CTO of Life in the Fast lane | Eponyms | Books | Twitter |