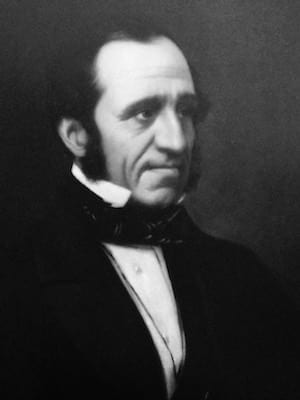 Robert William Smith (1807 – 1873) was an Irish Surgeon.
Prominent physician in Ireland, an astute linguist, medical historian and surgical pathologist publishing on topics ranging from arthritis to neuroma
Surgeon to Sir Patrick Duns Hospital was appointed the first chair of Surgery at Trinity College when it was established in 1847. Eponymously affiliated with the Smith Fracture
---
Biography
Born 12 October, Dublin
1832 – Licentiate of the Royal College of Surgeons of Ireland
1847 – First chair of surgery at Trinity College
1847 – Published his treatise on fractures, described as 'the most important work on fractures in English since Sir Astley Paston Cooper (1822)
1849 – Smith published a monograph 'A Treatise on the Pathology, Diagnosis and Treatment of Neuroma' containing an extensive review of the literature as well as his own observations. The book included a full description of generalized neurofibromatosis, including a description of von Recklinghausen syndrome (neurofibromatosis Type I) over 30 years before von Recklinghausen described it.
1870 – Professor of Surgery at Trinity College, Dublin
1873 – Vice-President of the Royal College of Surgeons of Ireland
Died 28 October 1873, Dublin
It is, I conceive, the duty of every person who undertakes to write upon a given subject, to make himself, as far as possible, acquainted with, and also to acknowledge the labours of those who may have preceded him in the same field of inquiry

Smith, 1847
---
Medical Eponyms
Extra-articular fracture of the distal radius with associated palmar (volar) angulation of the distal fracture fragment. Also called Goyrand fracture or reverse Colles fracture.
---
Controversies
Although he practiced surgery, his primary interest was in pathological anatomy. His reputation as a pathologist was so great that Abraham Colles requested that Smith be called upon to perform Colles' own autopsy. The autopsy was performed and later published by later published in William Stokes's 'Observations on the Case of the Late Abraham Colles'
---
Major Publications
References
--- eponym
the person behind the name