Downsloping TP segment seen as an early ECG manifestation in ~80% of patients with pericarditis, best visualised in leads II and the lateral precordial leads
ECG changes associated with Stage I pericarditis, first described by David H. Spodick in 1974. The sign remained relatively unevaluated until a recent retrospective analysis in 2020. Witting et al, considered an ECG to demonstrate Spodick's sign when at least two leads had TP downsloping of at least 1 mm.
Clinical significance
Potential useful distinguishing ECG feature between acute pericarditis and ACS
Witting found that Spodick's sign occurred in 29% of patients with pericarditis and 5% of patients with STEMI (OR 5.9)
PR depression alone can be a masquerader as it is seen in 12% of patients with STEMI
A separate prospective study by Porela et al found that PR depression had a high sensitivity (88%) for myopericarditis but a low specificity
---
Differentiating STEMI from pericarditis
The most discriminating features remain as ST depression, ST elevation in lead III >II, and absence of PR depression. It is thus still recommended to look for features of STEMI first on the ECG with ST elevation:
Search for ST depression (aside from leads aVR and V1)
Look for ST elevation in III > II
Search for horizontal or convex upward ST elevation
Following this, additional features such as Spodick's sign can be reviewed to further differentiate the diagnosis of pericarditis.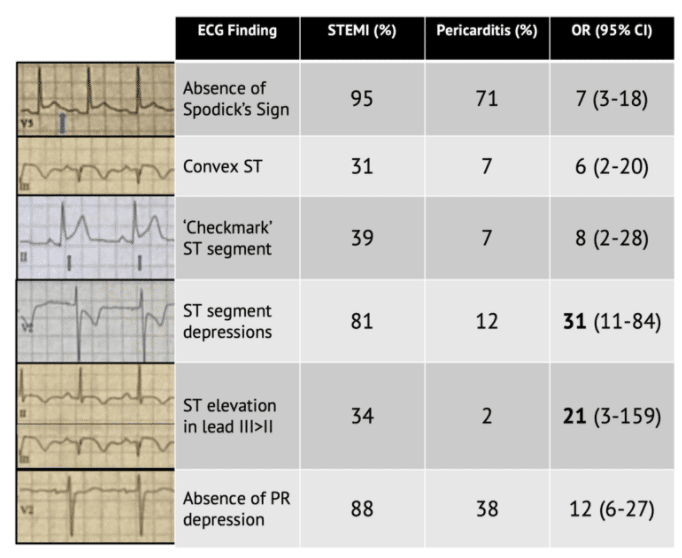 ---
Examples


Acute pericarditis:
Sinus tachycardia
Widespread concave STE and PR depression (I, II, III, aVF, V4-6).
Reciprocal ST depression and PR elevation in V1 and aVR
Spodick's sign best visualised in lead II
---
Associated Persons
---
ECG Library
---
References
---
Advanced Reading
Online
Textbooks
---
LITFL Further Reading
---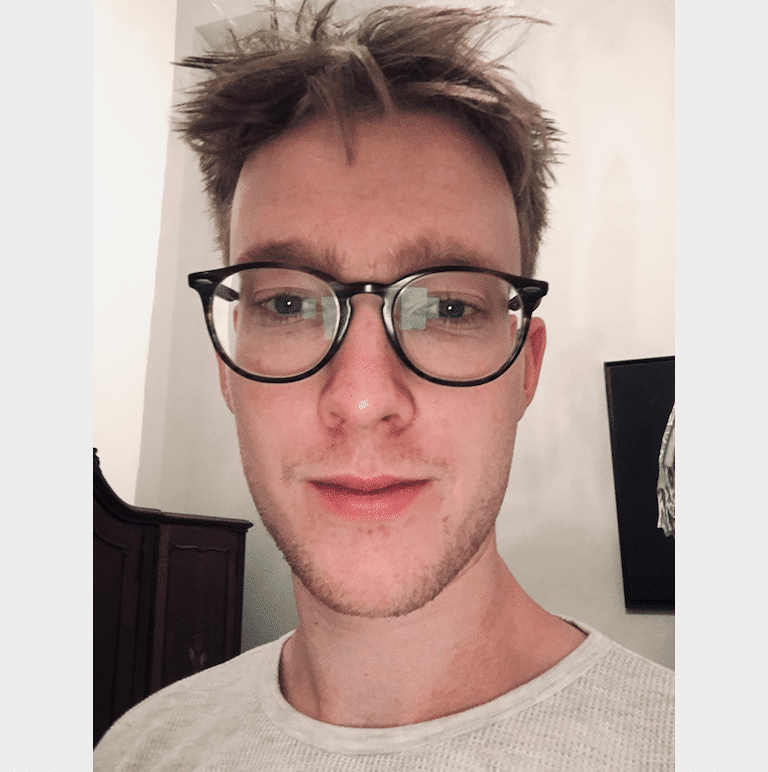 MBBS (UWA) CCPU (RCE, Biliary, DVT, E-FAST, AAA) Emergency Medicine Advanced Trainee in Melbourne, Australia. Special interests in diagnostic and procedural ultrasound, medical education, and ECG interpretation. Editor-in-chief of the LITFL ECG Library. Twitter: @rob_buttner