45 year-old man with two hours of central crushing chest pain. Smoker, significant family history of ischaemic heart disease.
ETA 20 minutes.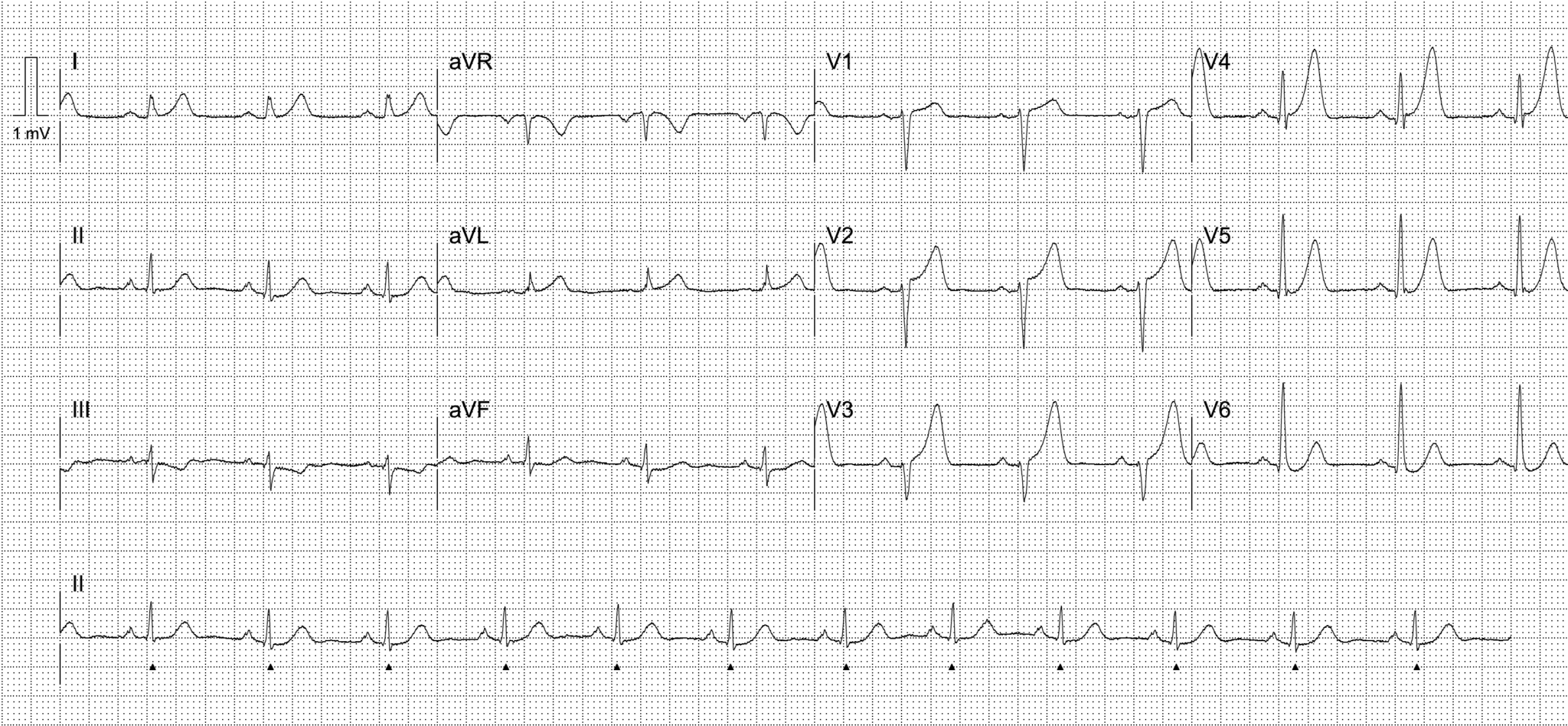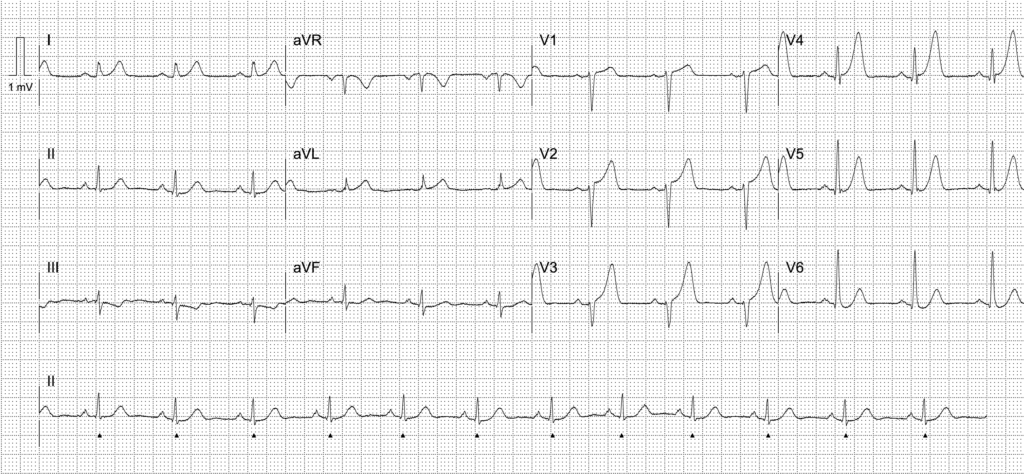 ---
ECG interpretation

ST elevation in lead V1-V3 (>2mm in V2)
Reciprocal ST depression in inferior leads, most notable in lead III
Hyperacute T-waves in V2-V5

This ECG demonstrates more subtle findings of anterior STEMI, however the clinical presentation should raise our index of suspicion.

Note that although the measurement of 2mm in V2 is mentioned and meets STEMI "criteria", these criteria are not entirely specific or sensitive for acute occlusion myocardial infarction. In early presentations, reciprocal ST depression may be the most prominent finding suggesting evolving infarction. These patients will not meet traditional criteria but will still benefit from emergent angiography. Likewise, many patients with benign early repolarisation have ST elevation meeting ECG STEMI criteria.
---
Outcome

Key Finding:


Findings:

Left Main Coronary Artery – short. Widely patent.
Left Anterior Descending Coronary Artery – type III vessel. 50% proximal stenosis. Occluded from mid-vessel. Thrombotic. Culprit.
Left Circumflex Coronary Artery – large calibre vessel. Mild disease.
Right Coronary Artery – medium calibre vessel. Dominant. Moderate mid vessel disease.
Left Ventriculogram – systolic function 45% anterolateral hypokinesis.

Recommendation:

Occluded LAD (culprit). Proceeded to PCI of mid LAD.

1. Dual antiplatelet therapy for at least 12 months, aspirin lifelong.
2. Aggressive cardiovascular risk factor management.
3. Smoking cessation.
4. Admit CCU.
---
References

Further reading

Online resources
---
ACTIVATE or WAIT
EKG Interpretation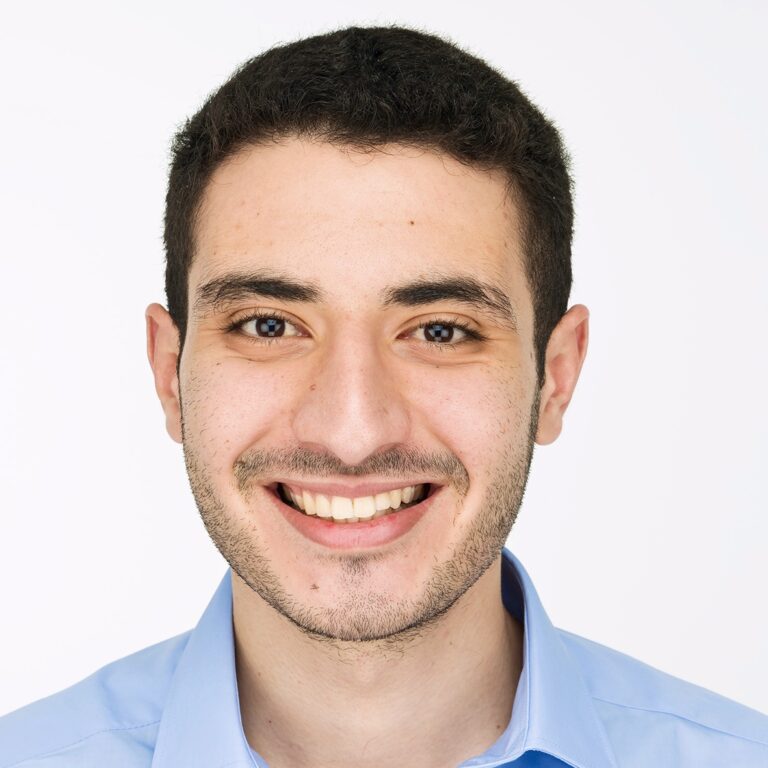 MBBS (Hons), BMSci (Hons). Cardiology Registrar at Royal Perth Hospital in Perth, Australia. Graduate of The University of Western Australia in 2016 with Honours and completed Basic Physician Training with the RACP in 2021. Passion lie in cardiac imaging and electrophysiology.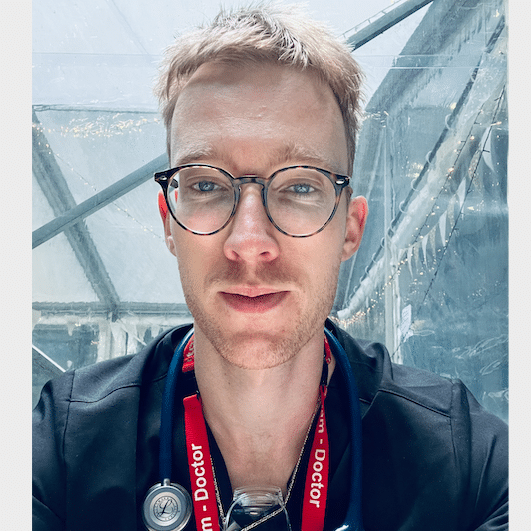 MBBS (UWA) CCPU (RCE, Biliary, DVT, E-FAST, AAA) Adult/Paediatric Emergency Medicine Advanced Trainee in Melbourne, Australia. Special interests in diagnostic and procedural ultrasound, medical education, and ECG interpretation. Editor-in-chief of the LITFL ECG Library. Twitter: @rob_buttner