To best understand ECG features of biatrial enlargement, it is recommended that you first review ECG changes seen in left atrial enlargement and right atrial enlargement.
Biatrial Enlargement Definition
Biatrial enlargement is diagnosed when criteria for both right and left atrial enlargement are present on the same ECG.
The diagnosis of biatrial enlargement requires criteria for LAE and RAE to be met in either lead II, lead V1 or a combination of leads
---
ECG Criteria for Biatrial Enlargement
The spectrum of P-wave changes in leads II and V1 with right, left, and biatrial enlargement is summarised below:
In lead II
Bifid P wave with
Amplitude ≥ 2.5mm AND
Duration ≥ 120 ms
In V1
Biphasic P waves with
Initial positive deflection ≥ 1.5mm tall AND

Terminal negative deflection ≥ 1mm deep AND
Terminal negative deflection ≥ 40 ms duration
Combination criteria
P wave positive deflection ≥ 1.5 mm in leads V1 or V2 AND

Notched P waves with duration >120 ms in limb leads, V5 or V6
---
P wave changes with Biatrial Enlargement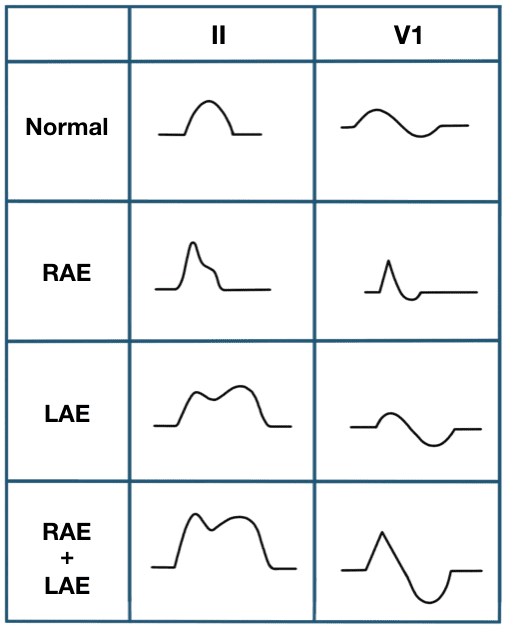 ---
Causes of Biatrial Enlargement
Combination of both left and right atrial enlargement.
Pulmonary hypertension due to:
Chronic lung disease (cor pulmonale)
Tricuspid stenosis
Congenital heart disease (pulmonary stenosis, Tetralogy of Fallot)
Primary pulmonary hypertension
---
Mitral valve disease
Aortic valve disease
Hypertension
Aortic stenosis
Mitral incompetence
Hypertrophic cardiomyopathy (HOCM)
---
ECG Examples
Example 1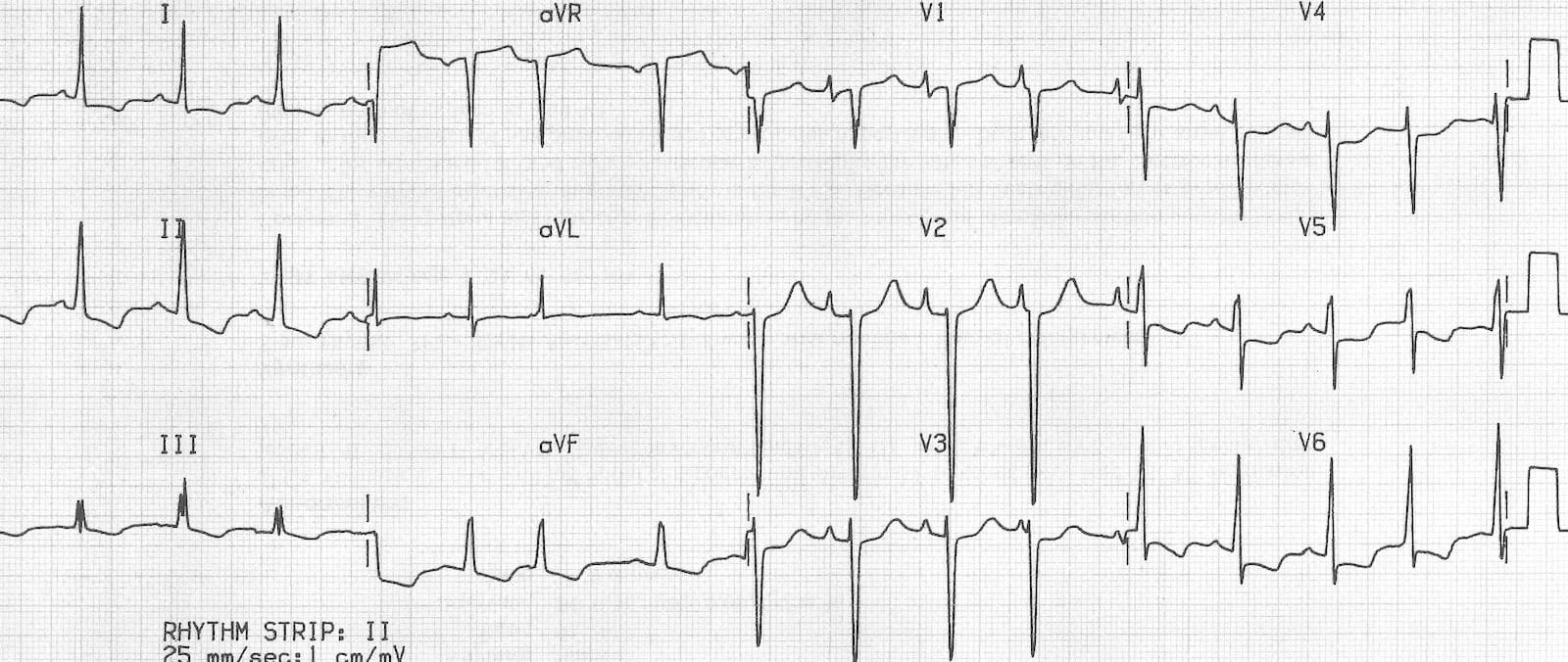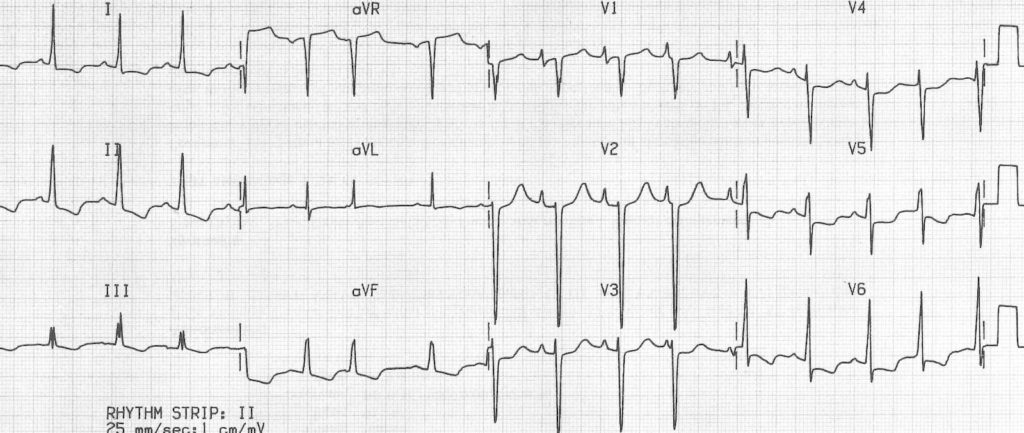 Biatrial enlargement due to idiopathic cardiomyopathy:
Biphasic P waves in V1 with a very tall positive deflection (almost 3 mm in height!) and a negative deflection that is both deep (> 1 mm) and wide (> 40 ms).
---
Example 2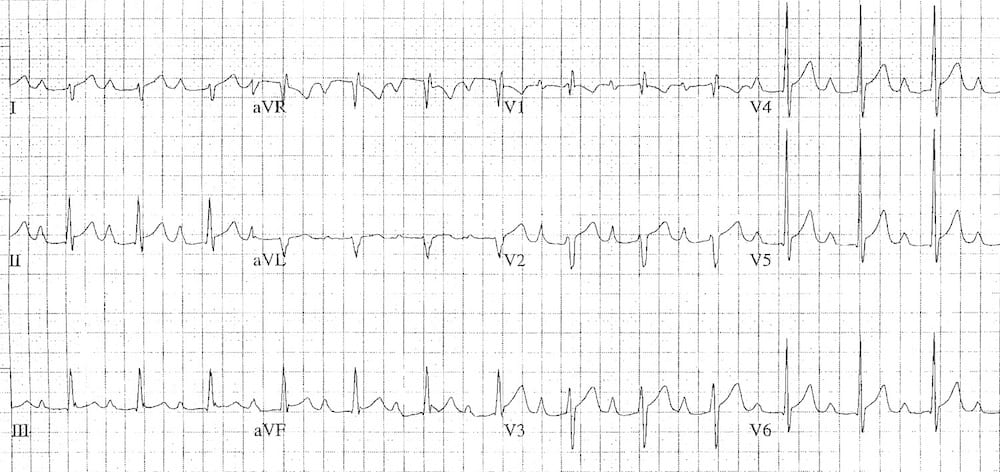 Biatrial enlargement:
P waves in lead II are tall (> 2.5mm) and wide (> 120 ms).
P waves in V2 are tall (> 1.5 mm), while the terminal negative portion of V1 is deep (> 1mm) and wide (> 40 ms).
---
Related Topics
---
References
---
Advanced Reading
Online
Textbooks
---
LITFL Further Reading
---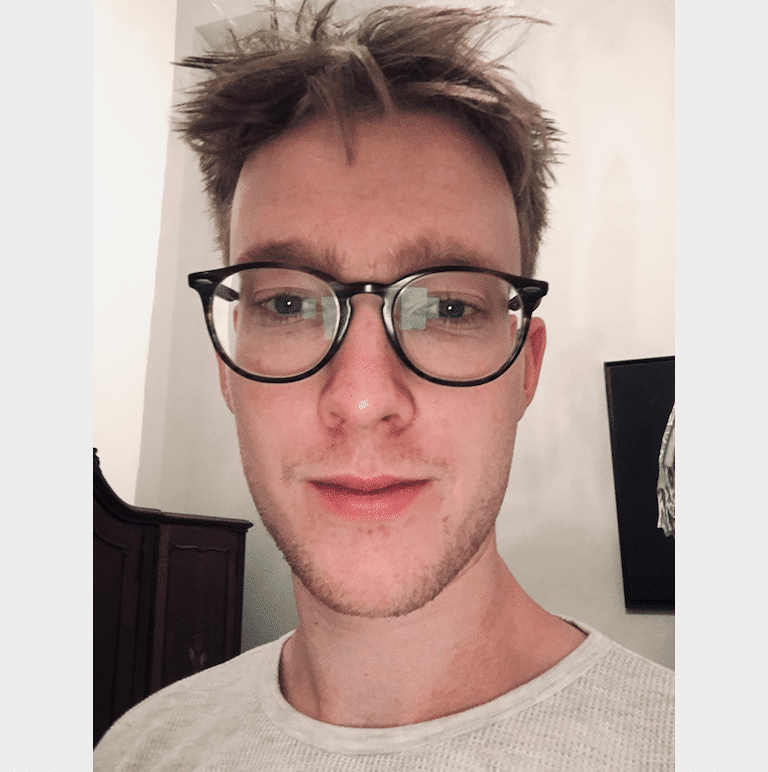 MBBS (UWA) CCPU (RCE, Biliary, DVT, E-FAST, AAA) Emergency Medicine Advanced Trainee in Melbourne, Australia. Special interests in diagnostic and procedural ultrasound, medical education, and ECG interpretation. Editor-in-chief of the LITFL ECG Library. Twitter: @rob_buttner
Emergency Physician in Prehospital and Retrieval Medicine in Sydney, Australia. He has a passion for ECG interpretation and medical education | ECG Library |