Diagnostic criteria
True trifascicular block refers to the presence of conduction delay in all three fascicles below the AV node (RBBB, LAFB, LPFB), manifesting as bifascicular block and 3rd degree AV block. One of two ECG patterns is present:
3rd degree AV block + RBBB + LAFB or;
3rd degree AV block + RBBB + LPFB
The ventricular escape rhythm usually arises from the region of either the left anterior or left posterior fascicle (distal to the site of block), producing QRS complexes with the appearance of RBBB plus either LPFB or LAFB respectively.
Impending trifascicular block
Other rare indicators of trifascicular block include:
Normal sinus rhythm with alternating LBBB/RBBB
RBBB with alternating fascicular blocks on a beat-to-beat basis
These herald impending failure of all three fascicles and associated 3rd degree AV block.
A clinical misnomer
The term "trifascicular block" is most commonly used clinically to describe bifascicular block associated with 1st degree AV block or 2nd degree AV block.
This term is inaccurate, as the conduction delay resulting in PR interval prolongation usually occurs in the AV node, not in the third remaining fascicle
There is no difference in progression to complete heart block in patients with bifascicular block versus those with bifascicular block and associated 1st degree AV block or 2nd degree Mobitz I block (1% risk per year)
The American Heart Association/American College of Cardiology Foundation/Heart Rhythm Society (AHA/ACCF/HRS) recommends against the use of the term "trifascicular block", as it does not have a unique anatomical association and does not accurately reflect the underlying anatomical disease process
Clinical Implications
Patients with true trifascicular block (associated third degree AV block) will require pacemaker insertion
Patients with bifascicular block and syncope or presyncope should be admitted for monitoring and likely pacemaker insertion (class II)
Asymptomatic bifascicular block with first degree AV block is not an indication for pacing (class III)
Main Causes
Causes are similiar to those of bifascicular block, related to degeneration or conduction impairment in fascicles below the AV node:
Ischaemic heart disease (40-60%)
Structural heart disease (50-80% association)
Aortic stenosis
Congenital heart disease
Hyperkalaemia (resolves with treatment)
ECG Examples
Example 1


True Trifascicular Block:
Right bundle branch block
Left axis deviation (Left anterior fascicular block)
Third degree heart block
Example 2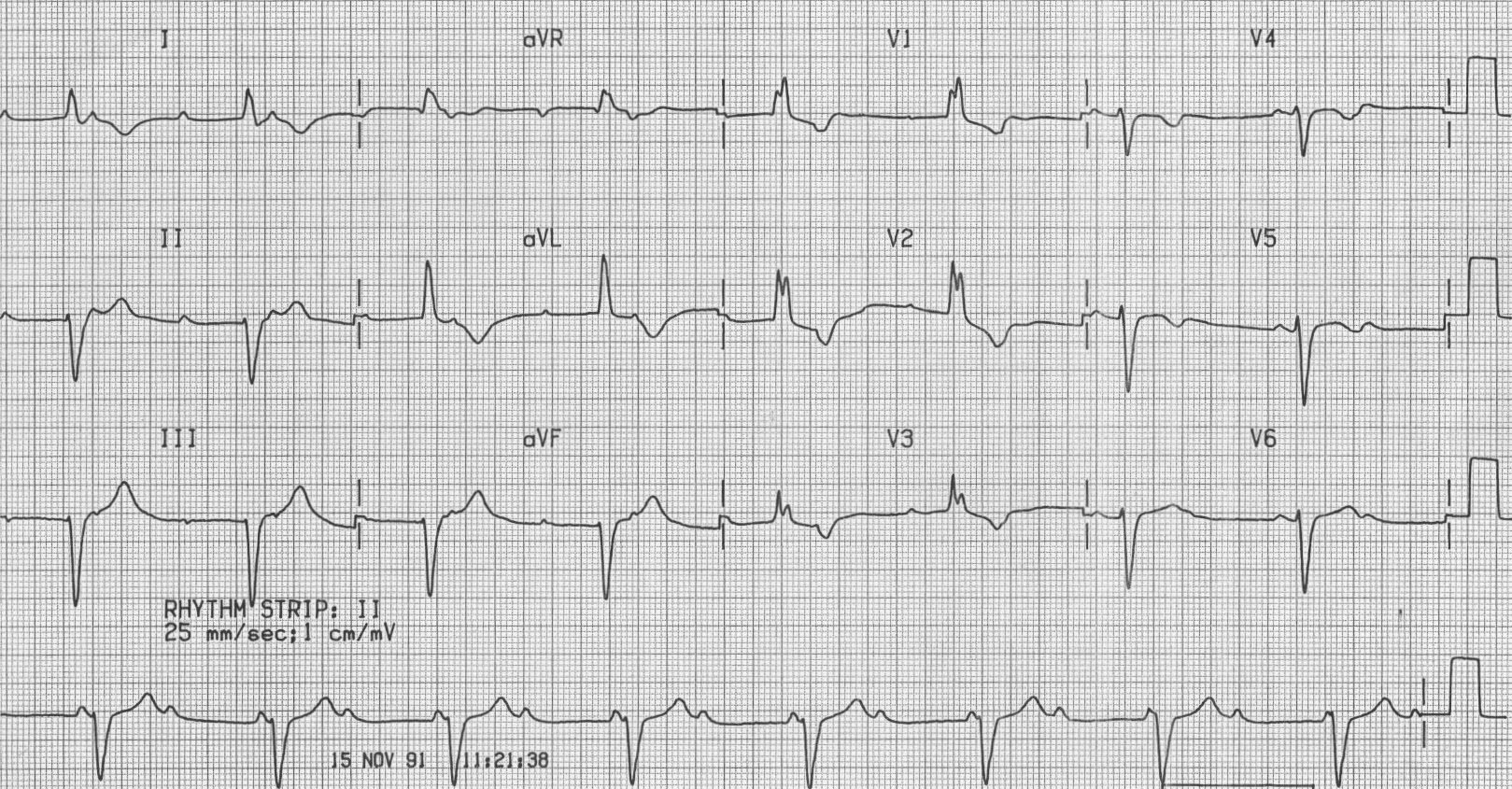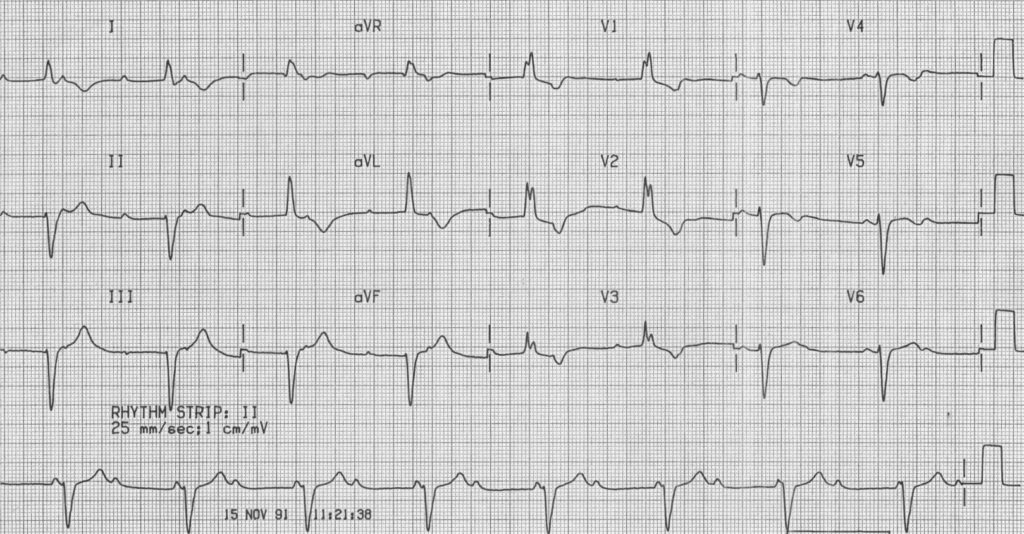 Example 3 (previously termed "incomplete trifascicular block")


Bifascicular block + first degree AV block
Right bundle branch block
Left axis deviation (= left anterior fascicular block)
First degree AV block
Commonly referred to clinically as "incomplete trifascicular block", this represents conducting disease of two fascicles, with delayed conduction through either the AV node or the remaining third fascicle. It is not possible to differentiate between the two based on the ECG alone
---
Clinical Cases
---
Related Topics
---
Further reading
References
Online
Textbooks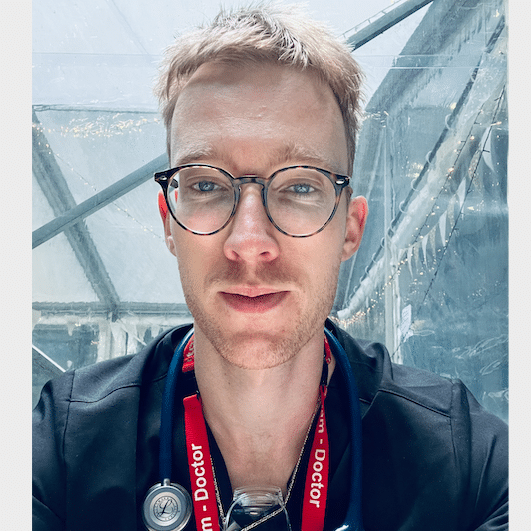 MBBS (UWA) CCPU (RCE, Biliary, DVT, E-FAST, AAA) Adult/Paediatric Emergency Medicine Advanced Trainee in Melbourne, Australia. Special interests in diagnostic and procedural ultrasound, medical education, and ECG interpretation. Editor-in-chief of the LITFL ECG Library. Twitter: @rob_buttner
Emergency Medicine Specialist MBChB FRCEM FACEM. Medical Education, Cardiology and Web Based Resources | @jjlarkin78 | LinkedIn |