Apical hypertrophic cardiomyopathy (AHC)
ECG features of AHC
The classic ECG finding in apical HCM is giant T-wave inversion in the precordial leads. Inverted T waves are also commonly observed in the inferior and lateral leads
Localised hypertrophy of LV apex, causing an "ace of spades" configuration of the LV cavity on ventriculography
Non-obstructive variant of Hypertrophic Cardiomyopathy (HCM). This relatively uncommon form of HCM is seen most frequently in Japanese patients (13-25% of all HCM cases in Japan).
Also known as Yamaguchi syndrome after the Hiroshi Yamaguchi MD and his original papers on hypertrophic non-obstructive cardiomyopathy with giant negative T waves (apical hypertrophy) in 1976 and 1979.


1979 Yamaguchi et al reviewed 1,002 consecutive left heart catheterization patients. Of the total, 30 patients exhibited the pathognomonic "ace of spades" shape of the left ventricle (LV).
2003 Kitaoka et al. showed a prevalence of 15% in an unselected Japanese cohort compared with 3% in an unselected Minneapolis cohort. They found an increased incidence among men, confirmed by Husser et al (2018) who found the incidence increased with age and further favoured men as age increased
---
Ace-of-spades sign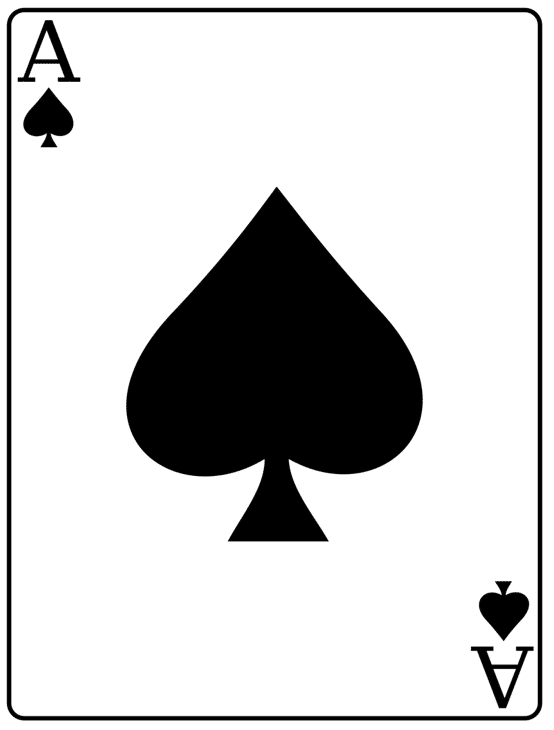 Pathognomonic left ventricule configuration seen in apical hypertrophic cardiomyopathy. Marked ventricular wall thickening at the apex resulting in cavity narrowing at the apex with a relatively normal appearance of the mid-ventricular to basal wall and cavity.
The sign can be demonstrated on echocardiography, ventriculography, and cardiac MRI
Ventriculogram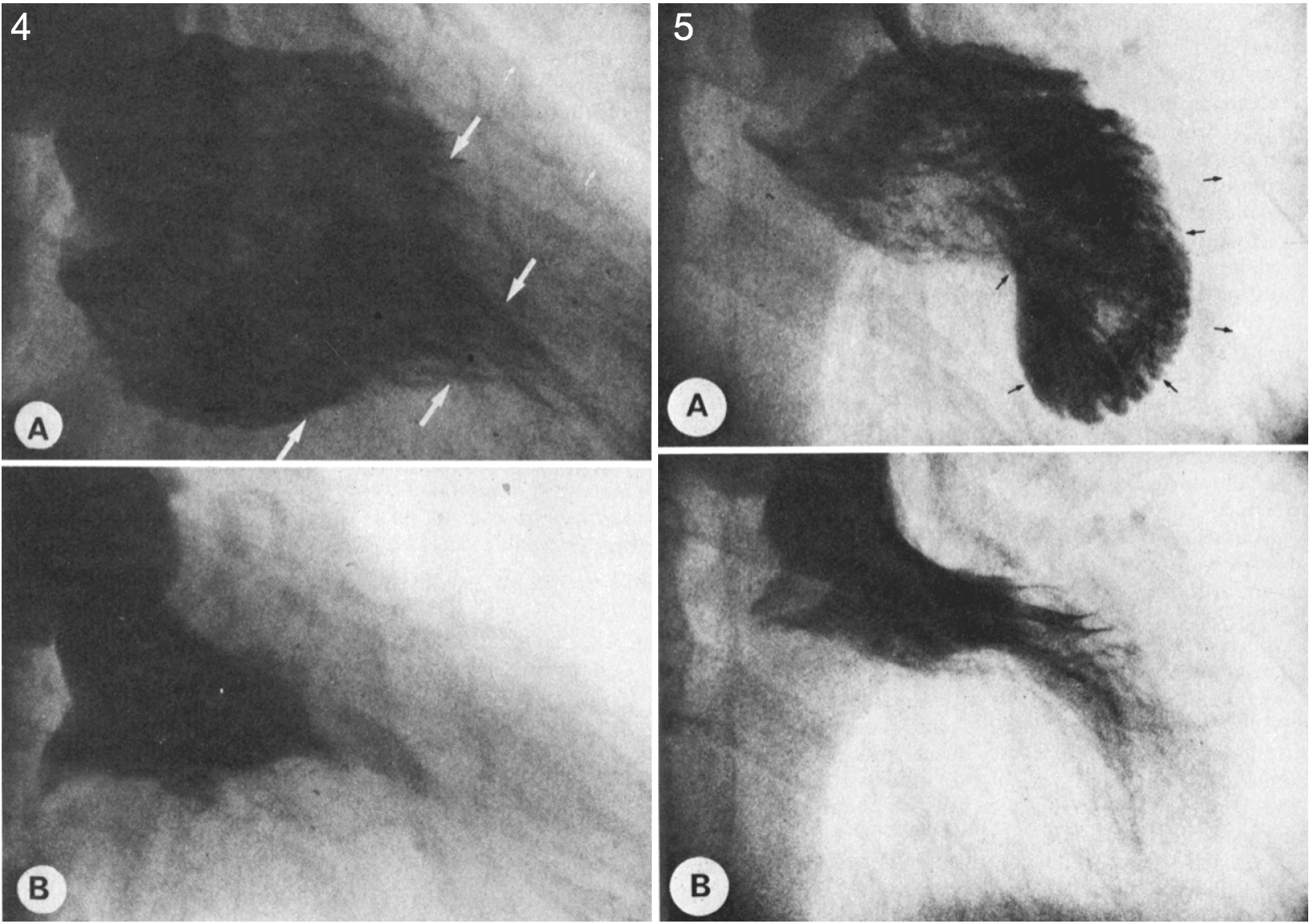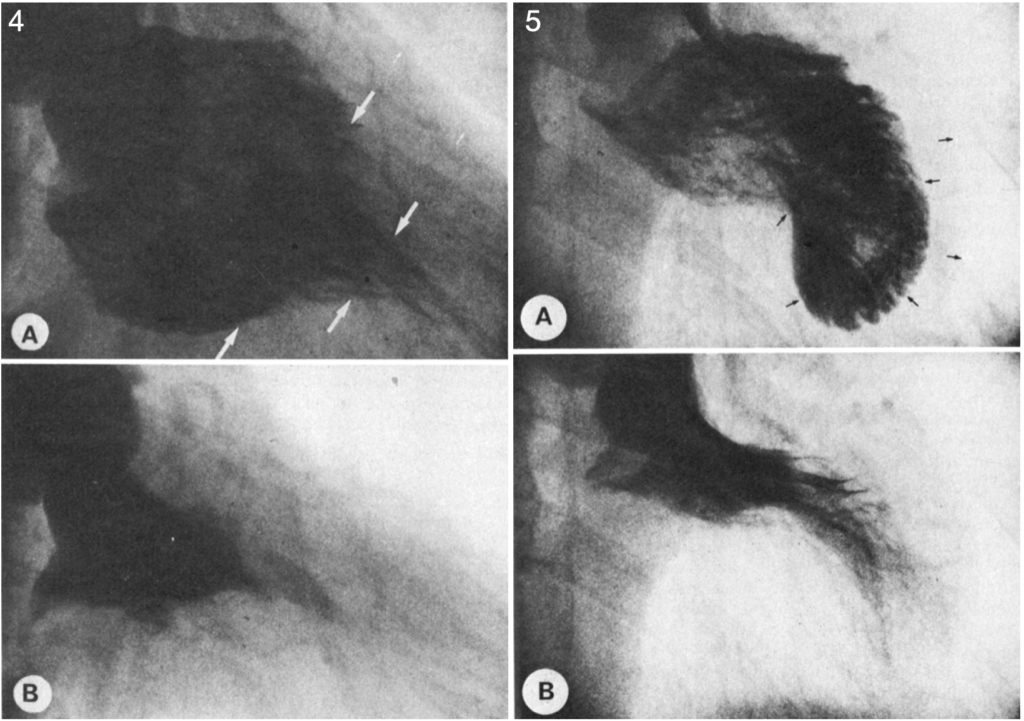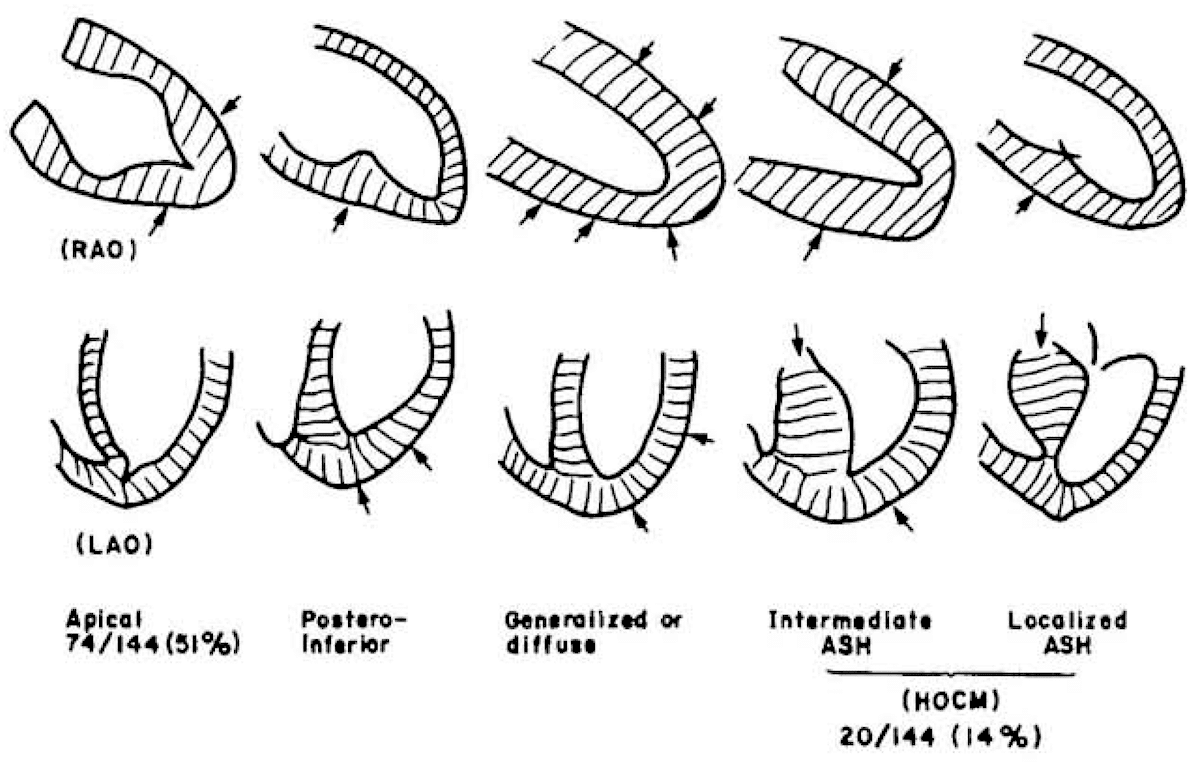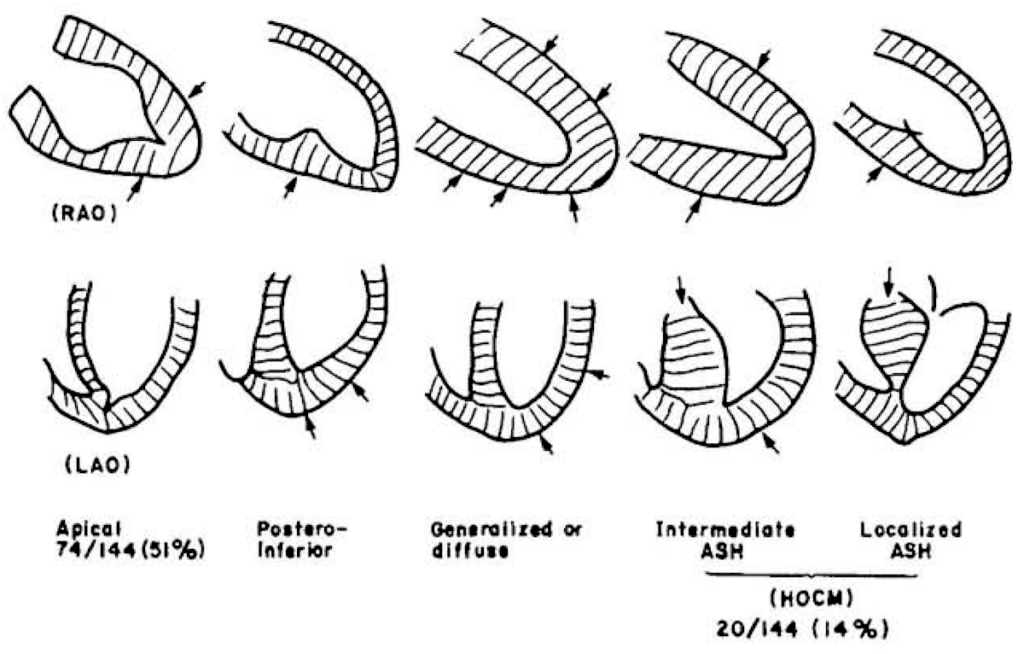 Cardiac MRI
A cardiac MRI with findings suggestive of apical hypertrophic cardiomyopathy. The left ventricle is observed in the right view at the end of diastole with "ace of spades" shape, characteristic of Yamaguchi syndrome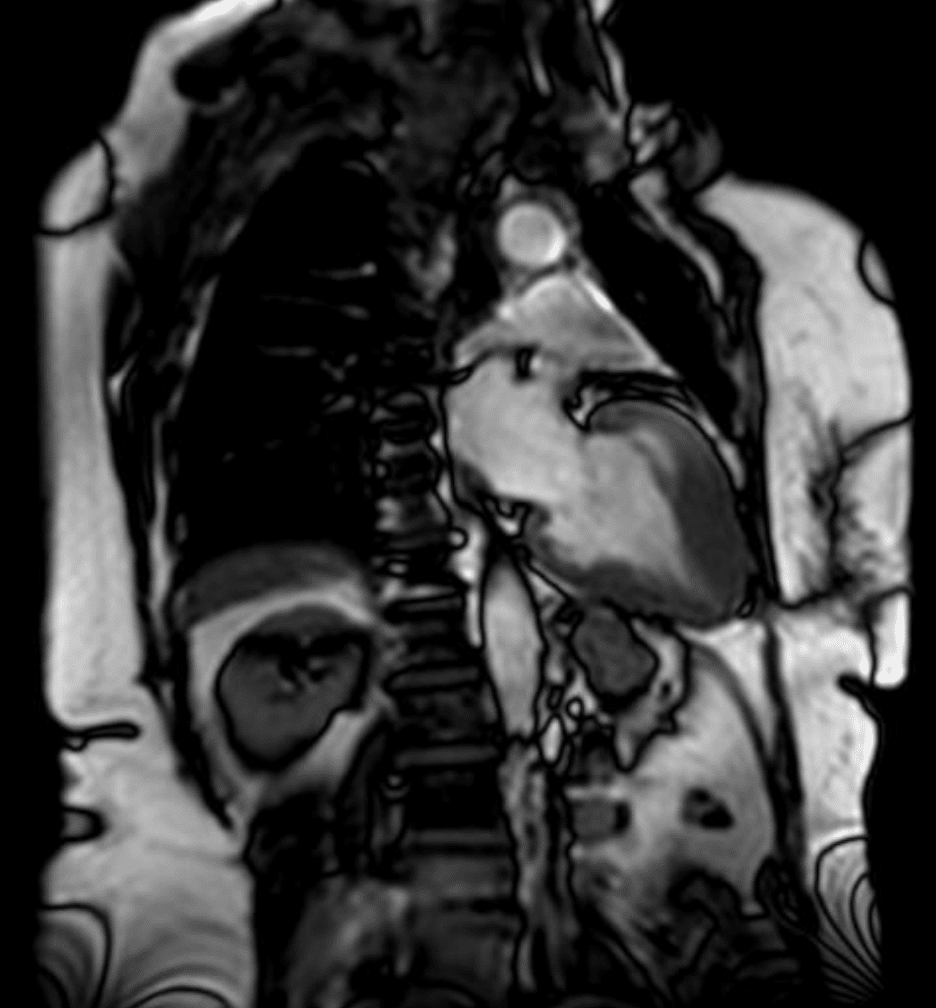 ---
Examples
Example 1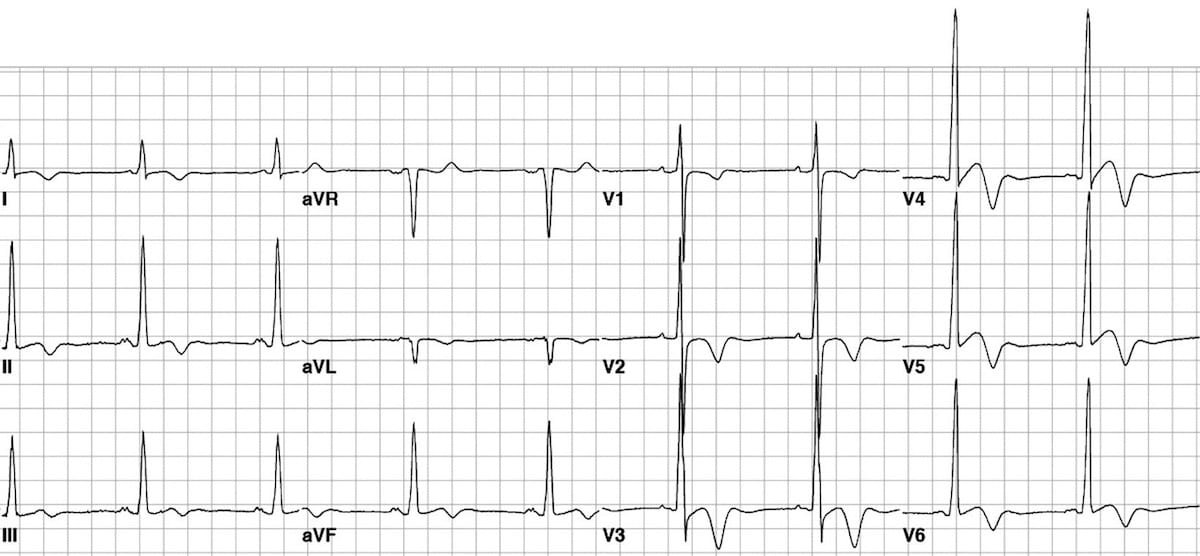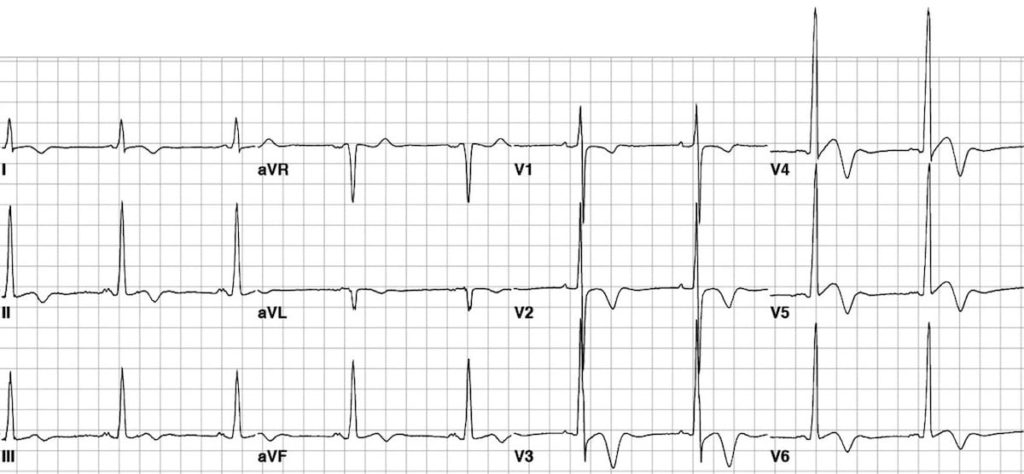 This ECG shows the typical pattern of apical HCM:
Large precordial voltages.
Giant T wave inversions in the precordial leads
Inverted T waves are also seen in the inferior and lateral leads.
This great ECG is reproduced from Hansen & Merchant (2007).
---
Example 2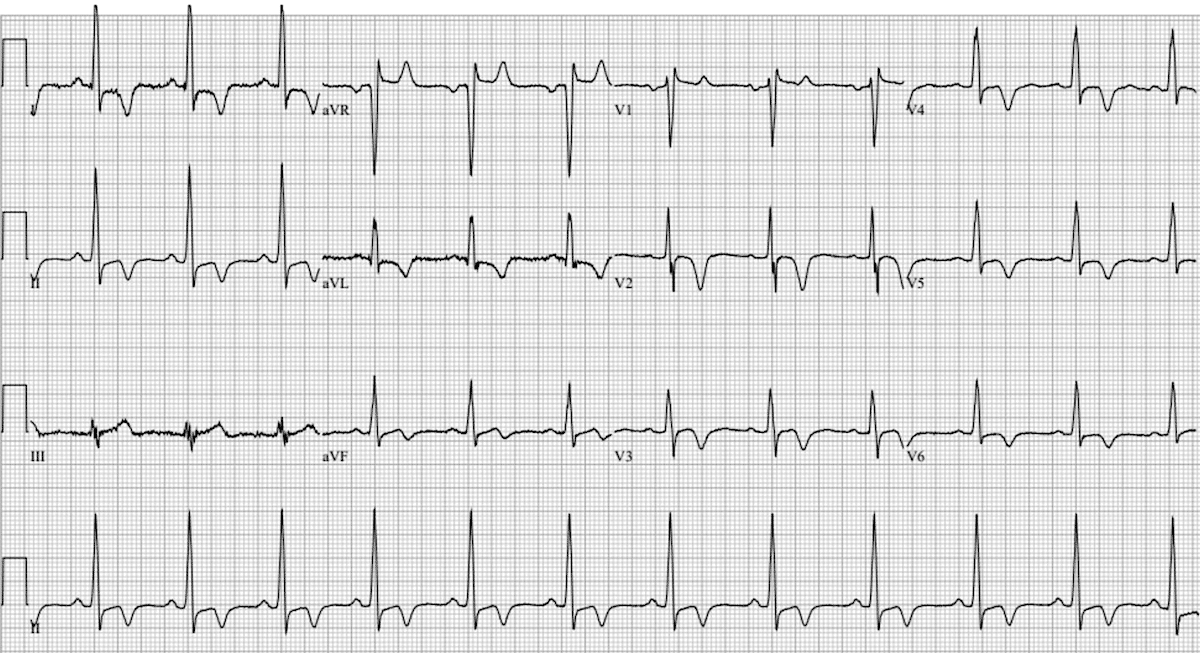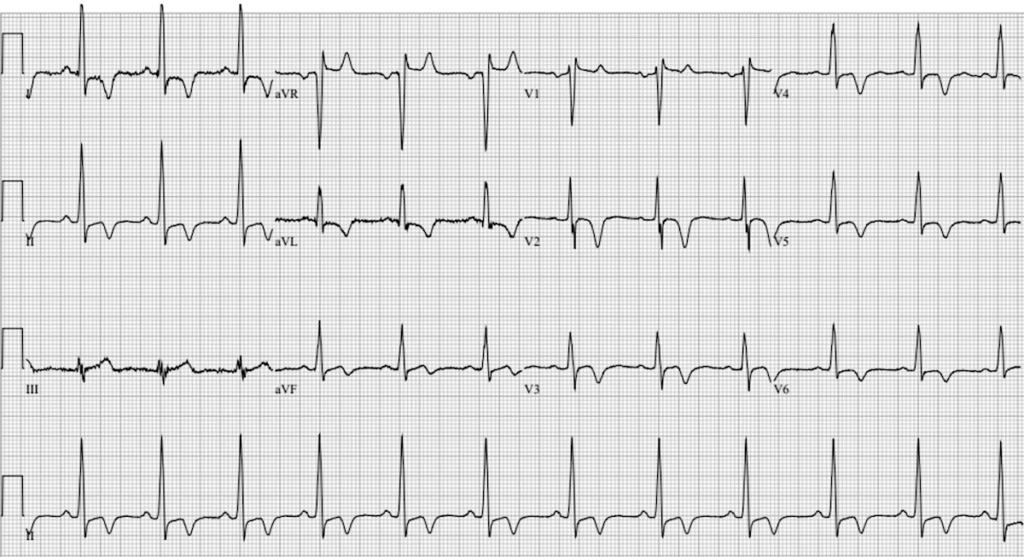 This ECG shows the typical pattern of apical HCM:
T wave inversions in leads I, II, and V2-V6
---
Videos
---
Related Topics
---
Advanced Reading
References
Yamagushi H, Nakanishi S, Nishijo T, Nagasaki F, Matsumoto S, Ishimura T. Hypertrophic cardiomyopathy with giant negative T waves. Japanese Circulation Journal. 1976; 40(suppl):110-111.
Yamaguchi H et al. Hypertrophic nonobstructive cardiomyopathy with giant negative T waves (apical hypertrophy): ventriculographic and echocardiographic features in 30 patients. Am J Cardiol. 1979 Sep;44(3):401-12
Yamaguchi H, Nishiyama S, Nakanishi S, Nishimura S. Electrocardiographic, echocardiographic and ventriculographic characterization of hypertrophic non-obstructive cardiomyopathy. Eur Heart J. 1983 Nov;4 Suppl F:105-19
Kitaoka H, Doi Y, Casey SA, Hitomi N, Furuno T, Maron BJ. Comparison of prevalence of apical hypertrophic cardiomyopathy in Japan and the United States. Am J Cardiol. 2003 Nov 15;92(10):1183-6.
Otieno H, Vivas Y, Traub D, Raman A, Polam C. Images in cardiovascular medicine: contrast echocardiography in apical hypertrophic cardiomyopathy. Circulation. 2006 Jul 11;114(2):e33-4
van der Wall EE, Bax JJ, Schalij MJ. Detection of apical hypertrophic cardiomyopathy; which is the appropriate imaging modality. Int J Cardiovasc Imaging. 2008 Oct;24(7):683-5.
Siewe D, Nichols KB, Furney SL, Littmann L. King of hearts for ace of spades: apical hypertrophic cardiomyopathy. Am J Med. 2014 Jan;127(1):31-3.
Abugroun A, Ahmed F, Vilchez D, Turaga L. Apical Hypertrophic Cardiomyopathy: A Case Report. Cardiol Res. 2017 Oct;8(5):265-268.
Husser D, Ueberham L, Jacob J, Heuer D, Riedel-Heller S, Walker J, Hindricks G, Bollmann A. Prevalence of clinically apparent hypertrophic cardiomyopathy in Germany-An analysis of over 5 million patients. PLoS One. 2018 May 3;13(5):e0196612.
Morales J, Giraldo M. Case report: Apical variant hypertrophic cardiomyopathy simulating an acute inferior myocardial infarction. J Electrocardiol. 2019 Jan-Feb;52:35-37
Shah FA, Fujikawa P, Miller JB, Singh H. A Novel Case of Yamaguchi Syndrome in a Hispanic Male. Cureus. 2021 Sep 1;13(9):e17651.
Titus A, Sharma N, Narayan G, Sattar Y, Angelis D. From Takotsubo to Yamaguchi. Cureus. 2022 Mar 28;14(3):e23561.
Online
Textbooks
---
LITFL Further Reading
---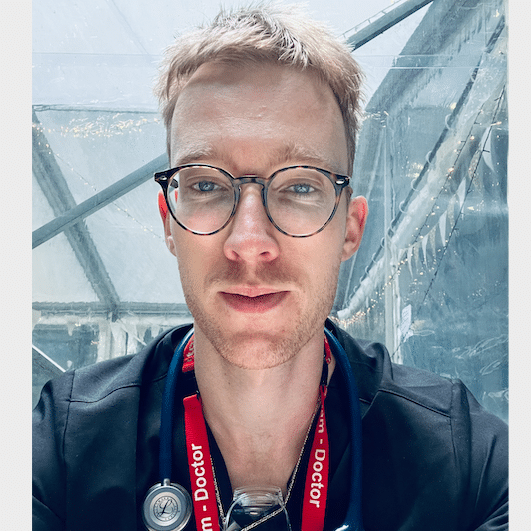 MBBS (UWA) CCPU (RCE, Biliary, DVT, E-FAST, AAA) Adult/Paediatric Emergency Medicine Advanced Trainee in Melbourne, Australia. Special interests in diagnostic and procedural ultrasound, medical education, and ECG interpretation. Editor-in-chief of the LITFL ECG Library. Twitter: @rob_buttner
BA MA (Oxon) MBChB (Edin) FACEM FFSEM. Associate Professor Curtin Medical School, Curtin University. Emergency physician, Sir Charles Gairdner Hospital.  Passion for rugby; medical history; medical education; and asynchronous learning #FOAMed evangelist. Co-founder and CTO of Life in the Fast lane | Eponyms | Books | Twitter |