Sinus Node Dysfunction (Sick Sinus Syndrome)
Sinus Node Dysfunction Overview
A disease characterized by abnormal sinus node functioning with resultant bradycardia and cardiac insufficiency. May be multi-factorial in origin. Causes can be considered either intrinsic or extrinsic.
Intrinsic Causes
Idiopathic Degenerative Fibrosis (commonest).
Ischaemia.
Cardiomyopathies.
Infiltrative Diseases e.g. sarcoidosis, haemochromatosis.
Congenital abnormalities.
Extrinsic Causes
---
ECG in Sinus Node Dysfunction
ECG abnormalities can be variable and intermittent. Multiple ECG abnormalities can be seen in sinus node dysfunction including:
Sinus Arrhythmia — associated with sinus node dysfunction in the elderly in the absence of respiratory pattern association.
Sinus Arrest — pause > 3 seconds.
Atrial fibrillation with slow ventricular response.
Bradycardia – tachycardia syndrome.
---
Bradycardia – tachycardia syndrome
Alternating bradycardia with paroxysmal tachycardia, often supraventricular in origin.
On cessation of tachyarrhythmia may be a period of delayed sinus recovery e.g. sinus pause or exit block.
If significant this period of delayed recovery may result in syncope.
---
Clinical Manifestations
Commonly seen in the elderly but sinus node dysfunction can affect all age groups.
Symptoms are due to decreased cardiac output and end-organ hypoperfusion associated with cardiac rhythm abnormality.
Wide range of clinical symptoms including syncope, near-syncope, dizziness, fatigue and palpitations.
---
Treatment
Correction / removal of extrinsic causes e.g. non-essential drugs.
Pacemaker insertion – requires correlation of both ECG abnormalities and clinical symptoms.
---
Recommendation for Pacing in Sinus Node Dysfunction
Class I – Evidence and/or agreement that permanent pacing is useful and effective.
Sinus node dysfunction with documented symptomatic bradycardia, including frequent sinus pauses that produce symptoms. In some patients, bradycardia is iatrogenic and will occur as a consequence of essential long-term drug therapy of a type and dose for which there are no acceptable alternatives.
Symptomatic chronotropic incompetence.
---
Class IIa – Conflicting evidence/ divergence of opinion but weight of evidence / opinion in favour
Sinus node dysfunction occurring spontaneously or as a result of necessary drug therapy, with heart rate less than 40 bpm when a clear association between significant symptoms consistent with bradycardia and the actual presence of bradycardia has not been documented.
Syncope of unexplained origin when major abnormalities of sinus node function are discovered or provoked in electrophysiological studies.
---
Class IIb – Conflicting evidence/divergence of opinion where usefulness / efficacy is less well established
In minimally symptomatic patients, chronic heart rate less than 40 bpm while awake.
---
Class III – Permanent pacing is not useful/effective and in some cases may be harmful.
Sinus node dysfunction in asymptomatic patients, including those in whom substantial sinus bradycardia (heart rate less than 40 bpm) is a consequence of long-term drug treatment.
Sinus node dysfunction in patients with symptoms suggestive of bradycardia that are clearly documented as not associated with a slow heart rate.
Sinus node dysfunction with symptomatic bradycardia due to nonessential drug therapy.
---
ECG Examples
Example 1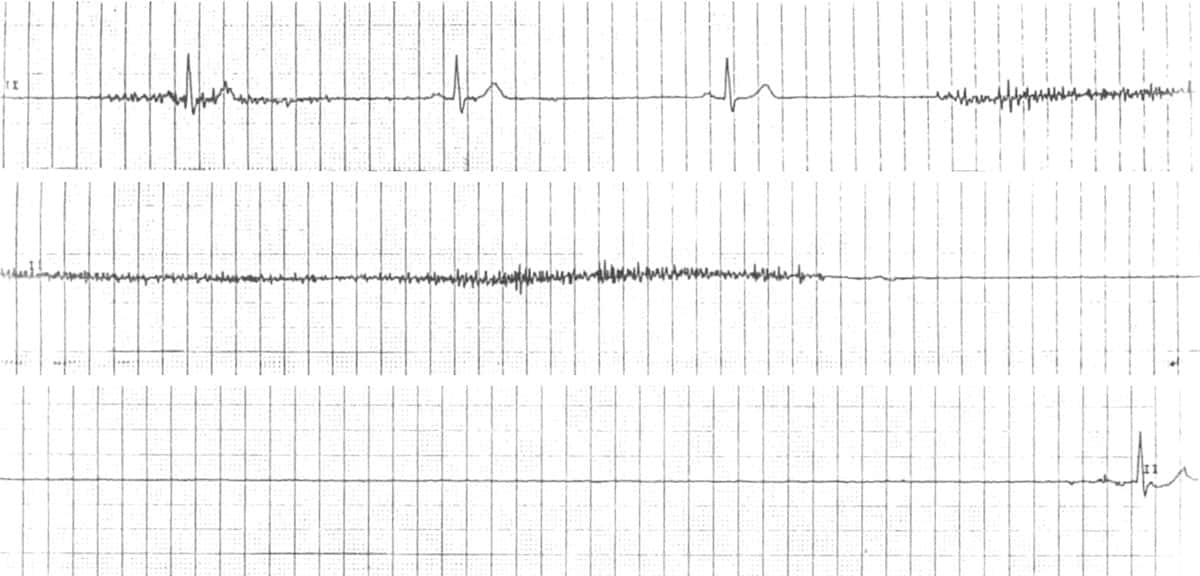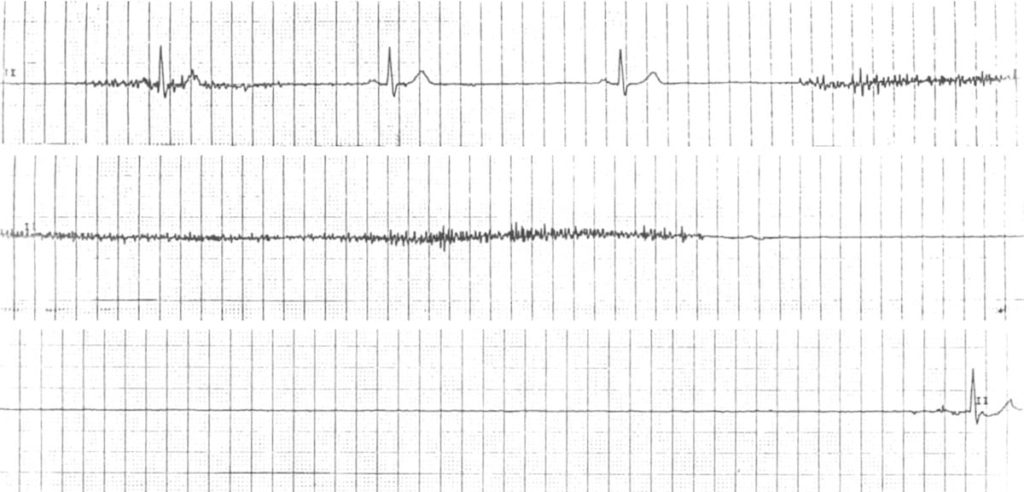 Sinus arrest:
Prolonged absence of sinus node activity (absent P waves) > 3 seconds.
---
Example 2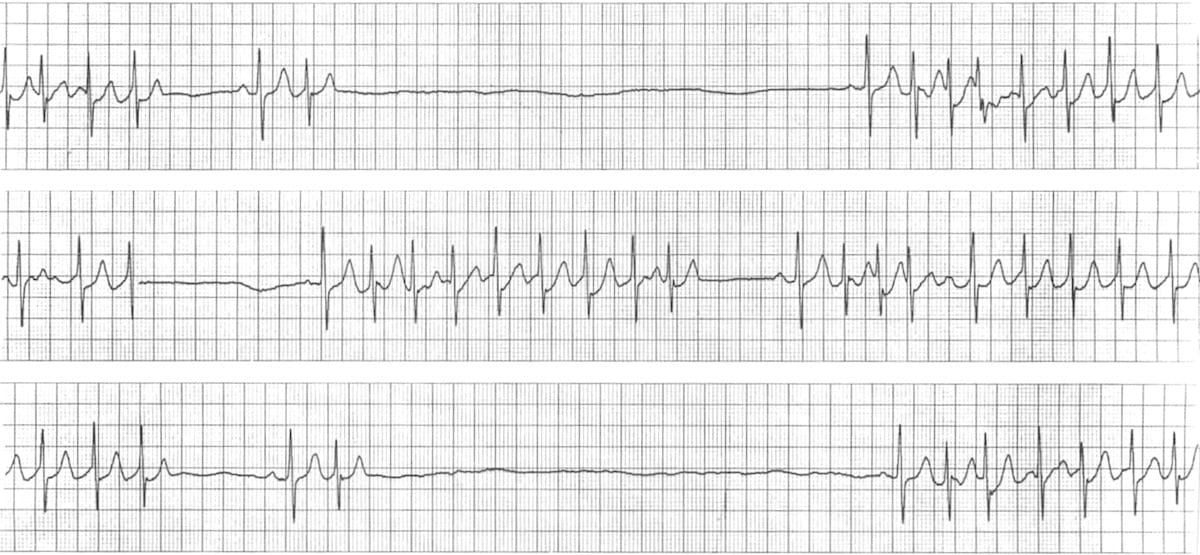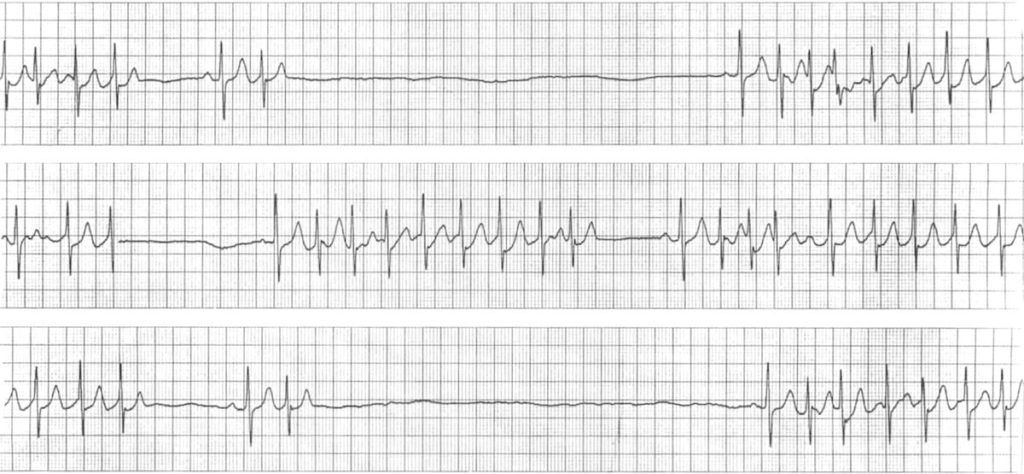 Bradycardia-tachycardia syndrome:
Runs of tachycardia interspersed with long sinus pauses (up to 6 seconds).
The sinus rate is extremely slow, varying from 40 bpm down to around 10 bpm in places.
Sinus beats are followed by paroxysms of junctional tachycardia at around 140 bpm.
---
Related Topics
---
References
---
Advanced Reading
Online
Textbooks
---
LITFL Further Reading
---
Emergency Physician in Prehospital and Retrieval Medicine in Sydney, Australia. He has a passion for ECG interpretation and medical education | ECG Library |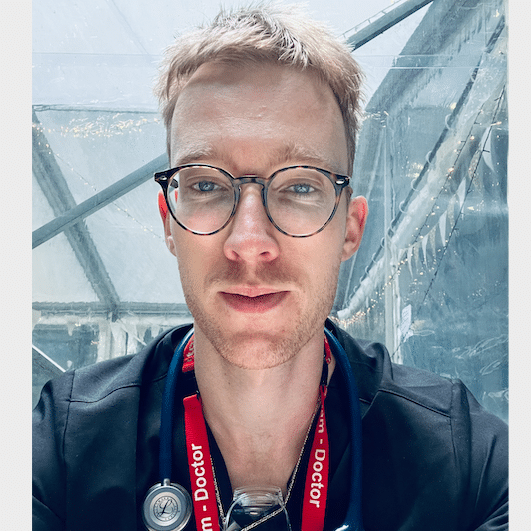 MBBS (UWA) CCPU (RCE, Biliary, DVT, E-FAST, AAA) Adult/Paediatric Emergency Medicine Advanced Trainee in Melbourne, Australia. Special interests in diagnostic and procedural ultrasound, medical education, and ECG interpretation. Editor-in-chief of the LITFL ECG Library. Twitter: @rob_buttner