OVERVIEW
Determining compliance and resistance within a respiratory system is important during the management of mechanical ventilation. Measurements that help us determine these include:
-> tidal volume
-> peak inspiratory flow rate
-> peak airway pressure
-> end-inspiratory plateau pressure
-> end-expiratory pressure in circuit
-> occult end-expiratory pressure measured during an end-expiratory pause maneuver.
COMPLIANCE
change in volume/change in pressure
can be static (when there is no air flow) or dynamic (during breathing – where airflow resistance becomes a factor)
normal dynamic compliance during mechanical ventilation – 50-100mL/cmH2O
when paralysed and mechanically ventilated, peak airway pressure = the force required to overcome resistive and elastic recoil of the lung and chest wall
to distinguish resistive from elastic recoil-related pressures requires an introduction of an end-inspiratory circuit occlusion after VT delivery.
peak pressure will decrease down to a stable plateau pressure (3 second hold) -> this corresponds to the elastic recoil pressure
"Quasi-static" Compliance = VT/Pplat – PEEPtotal
when patient spontaneously breathing -> compliance becomes uncertain
can decrease the pause time to 1 second but is difficult to measure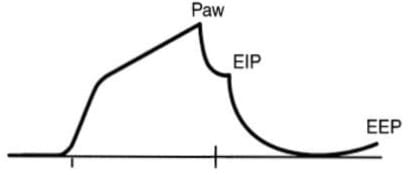 RESISTANCE
Flow = change in pressure/resistance
Resistance = change in pressure/flow
Respiratory system resistance
= Paw – Pplat/Peak inspiratory flow rate
peak inspiratory flow rate = preocclusion flow rate and is expressed in terms of cmH20/L/second
resistance is expressed as cmH20/L/second
respiratory resistance can only be accurately determined with a constant inspiratory flow (square wave) pattern -> usually set at 1L/second when measuring resistance -> this happens to be a standard setting for patient comfort.
NORMAL AND PATHOLOGICAL STATES
in mechanically ventilated, normal patients: compliance = 50-100mL/cmH20, resistance = 1-8cmH20/L/s
ARDS or cardiogenic pulmonary oedema: low compliance (around 40mL/cmH2O), and elevated resistance (15cmmH2O/L/s).
COPD or asthma: high compliance (66mL/cmH2O) and higher resistance (25cmH2O/L/s).
restrictive lung disease = decreased compliance -> small, rapid breaths -> decrease WOB
obstructive lung disease = increased compliance -> large, slow breaths -> decreased WOB
VIDEOS
Dr Eric Strong on Normal Lung Mechanics
Dr Eric Strong on Monitoring Lung Mechanics
---
References and Links
Journal articles
Bersten AD. A simple bedside approach to measurement of respiratory mechanics in critically ill patients. Crit Care Resusc. 1999 Mar;1(1):74-84. PubMed PMID: 16599866. [Free Full Text]
---