OVERVIEW
The open lung approach (OLA) to ventilation involves increasing the level of Positive End Expiratory Pressure (PEEP) in combination with protective lung ventilation
protective lung ventilation with low tidal volumes is now widely considered the standard of care in acute respiratory distress syndrome (ARDS)
a universally accepted protocol for OLA ventilation does not exist
the use of PEEP — at what level and how it should be optimised — remains controversial
Recruitment manoeuvres in ARDS and novel ventilation modes (e.g. Airway Pressure Release Ventilation (APRV)) may also be used as part of OLA ventilation
RATIONALE
Potential benefits of PEEP and OLA ventilation in ARDS
maximises recruitment of alveoli (by preventing de-recruitment)
minimises cyclic atelectasis and atelectrauma
decreases biotrauma from alveolar collapse (e.g. release of inflammatory mediators)
minimises denitrogenation atelectasis and oxygen toxicity (by allowing lower FiO2)
DETERMINING OPTIMAL PEEP
Optimal PEEP level ultimately represents a balance between regional areas of overstretching and regional derecruitment
no agreed-upon method of determination
optimal PEEP may change over time
'best' PEEP maybe independent of oxygenation effects (e.g. due to hyperinflation injury)
'best' PEEP may be independent of respiratory mechanics
There are a number of methods suggested to determine the optimum PEEP setting:
perform staircase recruitment manoeuvre (SRM) (see Recruitment manoeuvres in ARDS) the adjust to either optimal SpO2, static compliance, or other parameter listed below
adjust according to FiO2 requirements (e.g. as per ARDSNet protocol)
higher than the upper or the lower inflexion point on a pressure-volume loop (experts argue over which inflexion point is preferable to use)
adjust PEEP to maximise static compliance: TV / (Pplat – PEEP) (increased risk of alveolar stretch above this)
thoracic tomography
lowest intra-pulmonary shunt (highest SvO2)
esophageal balloon directed estimation of pleural pressures to calculate transpulmonary pressures and guide PEEP titration
model-based methods
in asthma, can use either ZEEP (PEEP = 0) or 2/3 of measured auto-PEEP (no high-level evidence for either)
A clinical trial has been registered that plans to compared the ARDSNest approach to 3 different methods of determining optimal PEEP (see here)
PROS AND CONS OF PEEP
EVIDENCE
Three major studies have assessed high versus low PEEP in combination with protective lung ventilation at low tidal volumes for ARDS
ALVEOLI trial (2004) — no difference between high and low PEEP
LOVS trial (2008) — improved oxygenation and less need for rescue interventions (e.g. ECMO), no difference in mortality
EXPRESS trial (2008) — more ventilator-free days and more organ failure-free days, no difference in mortality
Briel et al (2010) meta-analysis — used the data from the above 3 trials ( 2299 patients) and showed that higher levels of PEEP were associated with improved survival among ARDS but not ALI patients (i.e. if PF ratios <200 there was 34.1% versus 39.1% mortality with adjusted RR, 0.90; 95% CI, 0.81-1.00; P = .049)
OLa trial —
ART trial (2017) — OLA ventilation increased mortality in moderate-to-severe ARDS patients (see below)
Key trial data summary tables (courtesy of Professor David Tuxen)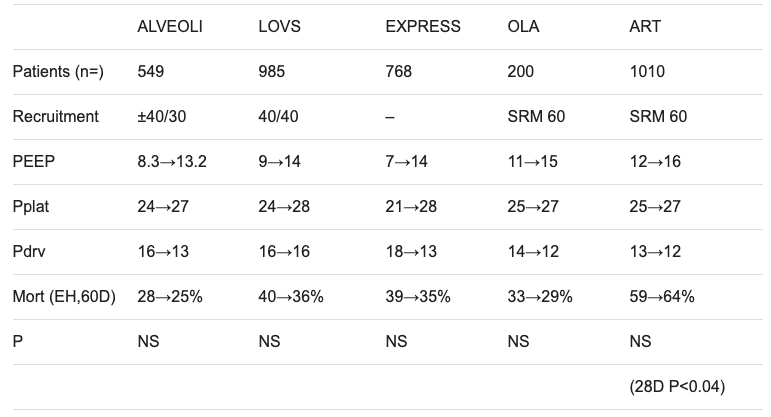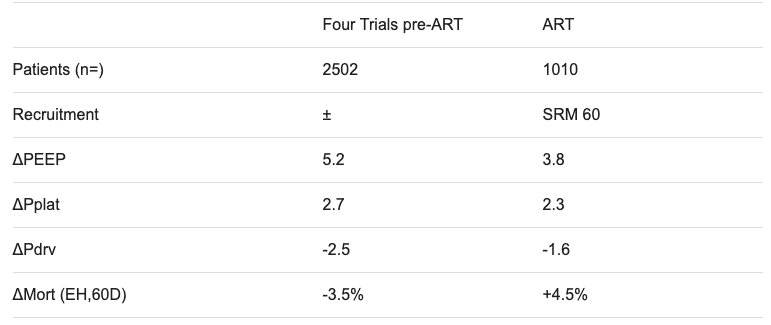 ART trial, 2017
international multicenter Randomised Controlled Trial (RCT)
1013 patients randomised from 120 intensive care units from 9 countries (mostly South America)
patients included received invasive mechanical ventilation with moderate to severe ARDS (PF ratio <200) of less than 72 hours of duration
intervention:

high-PEEP and staircase recruitment manoeuvre (SRM) optimising static lung compliance using a protocolised approach (an open lung approach (OLA) to mechanical ventilation)

control:

low-PEEP and low- tidal volume Acute Respiratory Distress Syndrome Network (ARDSNet) strategy

primary outcome:

the intervention (OLA approach) had increased 28-day all-cause mortality (55.3% vs 49.3%)

Commentary and criticisms:

overall, a well-designed trial
the control arm of the ART trial had higher PEEP (mean 2-3 cmH2O higher) than most studies using the ARDSNet ventilation strategy
concerns include:

generalisability to Australasian ICU setting, where the PHARLAP trial has been performed but is yet to be published
a relatively high mortality rate in both the intervention and control arms of the trial
the morbidity and mortality that was temporally associated with the SRM was not apparent in other trials
is optimising static compliance the best way to set PEEP?
would identification of "PEEP responsive" patient subgroups prior to the intervention allow only those who might benefit receive the intervention and prevent harm to "non-responders"?
are the findings generalizable to other OLA ventilation strategies? (e.g. high PEEP vs high PEEP + SRM vs high PEEP + other recruitment manoeuvres vs high PEEP + recruitment manoeuvres targeting optimal PEEP based on parameters other than best static compliance)
The effect of low VT ventilation with higher levels of PEEP in patients without ARDS is uncertain
CONCLUSION
Use of higher PEEP than traditionally prescribed by the ARDSNet protective lung ventilation protocol is reasonable if tailored to individual patient requirements, but OLA ventilation with recruitment manoeuvres for ARDS should not be routinely used
Higher PEEP (>15 cmH20) is a reasonable approach in patients with the highest lung recruitability and in the most hypoxemic patients

A meta-analysis (pre-ART trial) suggests a possible mortality benefit of protective lung ventilation with high PEEP in patients with moderate-to-severe ARDS (PF ratio <200)
Even the control arm of the ART trial had higher PEEP (mean 2-3 cmH2O higher) than most studies using the ARDSNet ventilation strategy
The method of determination of optimal PEEP is controversial

Specific subgroups of ARDS patients may benefit from OLA ventilation with recruitment manoeuvres, but identification is uncertain, the evidence is weak, and there is risk of harm to patients as found in the ART trial.
---
References and Links
LITFL
Journal articles
ART investigators writing group. Effect of Lung Recruitment and Titrated Positive End-Expiratory Pressure (PEEP) vs Low PEEP on Mortality in Patients With Acute Respiratory Distress Syndrome: A Randomized Clinical Trial. JAMA. 2017; 318(14):1335-1345. [pubmed] [article] (ART)
Briel M, Meade M, Mercat A, et al. Higher vs lower positive end-expiratory pressure in patients with acute lung injury and acute respiratory distress syndrome: systematic review and meta-analysis. JAMA. 2010 Mar 3;303(9):865-73. [pubmed]
Brower RG, Lanken PN, MacIntyre N, et al; National Heart, Lung, and Blood Institute ARDS Clinical Trials Network. Higher versus lower positive end-expiratory pressures in patients with the acute respiratory distress syndrome. N Engl J Med. 2004 Jul 22;351(4):327-36. [pubmed] (ALVEOLI)
Guerin C. The preventive role of higher PEEP in treating severely hypoxemic ARDS. Minerva Anestesiol. 2011 Aug;77(8):835-45. Review. [pubmed] [article]
Kacmarek RM, Villar J, Sulemanji D, et al. Open Lung Approach for the Acute Respiratory Distress Syndrome: A Pilot, Randomized Controlled Trial. Critical care medicine. 2016; 44(1):32-42. [pubmed] (OLA)
Meade MO, Cook DJ, Guyatt GH, et al; Lung Open Ventilation Study Investigators. Ventilation strategy using low tidal volumes, recruitment maneuvers, and high positive end-expiratory pressure for acute lung injury and acute respiratory distress syndrome: a randomized controlled trial. JAMA. 2008 Feb 13;299(6):637-45. .[pubmed] (LOVS)
Mercat A, Richard JC, Vielle B, et al; Expiratory Pressure (Express) Study Group. Positive end-expiratory pressure setting in adults with acute lung injury and acute respiratory distress syndrome: a randomized controlled trial. JAMA. 2008 Feb 13;299(6):646-55. [pubmed] (EXPRESS)
Rouby JJ, Ferrari F, Bouhemad B, Lu Q. Positive end-expiratory pressure in acute respiratory distress syndrome: should the 'open lung strategy' be replaced by a 'protective lung strategy'? Crit Care. 2007;11(6):180. Review. [pubmed] [article]
Rubenfeld GD. How much PEEP in acute lung injury. JAMA. 2010 Mar 3;303(9):883-4. [pubmed]
Santa Cruz R, Rojas JI, Nervi R, Heredia R, Ciapponi A. High versus low positive end-expiratory pressure (PEEP) levels for mechanically ventilated adult patients with acute lung injury and acute respiratory distress syndrome. Cochrane Database Syst Rev. 2013 Jun 6;6:CD009098. [pubmed]
Suter PM, Fairley B, Isenberg MD. Optimum end-expiratory airway pressure in patients with acute pulmonary failure. N Engl J Med. 1975 Feb 6;292(6):284-9.[pubmed]
Villar J, Kacmarek RM, Pérez-Méndez L, et al. A high positive end-expiratory pressure, low tidal volume ventilatory strategy improves outcome in persistent acute respiratory distress syndrome: a randomized, controlled trial. Crit Care Med. 2006 May;34(5):1311-8. [pubmed]
---