OVERVIEW
TCD is a non-invasive technique for monitoring blood flow velocity (FV) in the basal cerebral arteries using Doppler ultrasound
USES
assessment of blood flow velocity through cerebral arteries is useful for:
emboli
stenosis
vasospasm post SAH
assessment of cerebral blood flow
DESCRIPTION
pulsed Doppler probe -> graphs velocity over time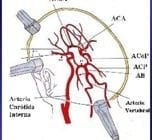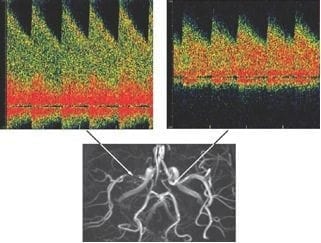 METHOD OF USE
Technique
uses a 2 MHz probe (low frequency)
probe on temporal bone -> measure flow in MCA
phase shift is proportional to the speed of blood
during vasospasm there is an increase in flow velocity through the narrowed segment that is proportional to the reduction in vessel diameter.
Flow in MCA
normal flow: mean = 55cm/sec
mild: > 120cm/sec
moderate: > 160cm/sec
severe: > 200cm/sec
Lindegaard Ratio = mean velocity in the MCA / mean velocity in ipsilateral extracranial internal carotid artery
high velocities in the MCA (>120cm/s) may be due to hyperaemia or vasospasm.
the Lindegaard Ratio helps distinguish these conditions.
<3 = hyperaemia
>3 = vasospasm
-> 3-6 mild
-> >6 severe
OTHER INFORMATION
Interpreting flow
increases in flow velocity may be vasospasm or hyperaemia (to differentiate compare flow through MCA with flow through ICA)
reverberant flow (flow forward during systole and backward during diastole) = no sustainable cerebral perfusion pressure
Advantages
non-invasive
quick and easily repeatable
performed at the bedside
can be used to monitor spasm post-treatment
Disadvantages
sensitivity 80% compared to angiography
operator dependent
poor for distal vessels (i.e. other than MCA and ICA)
potential confounders include hypo/hypercapnia, haematocrit, BP
edema and vasospasm may be difficult to distinguish post-op
difficult views in some patients (e.g. thick skulls!)
---
References and Links
Bathala L, Mehndiratta MM, Sharma VK. Transcranial doppler: Technique and common findings (Part 1). Ann Indian Acad Neurol [serial online] 2013 [cited 2013 May 27];16:174-9. Available from: http://www.annalsofian.org/text.asp?2013/16/2/174/112460
Moppett IK, Mahajan RP. Transcranial Doppler ultrasonography in anaesthesia and intensive care. Br J Anaesth. 2004 Nov;93(5):710-24. PMID: 15220174.
White H, Venkatesh B. Applications of transcranial Doppler in the ICU: a review. Intensive Care Med. 2006 Jul;32(7):981-94. PMID: 16791661.
---