It's time for another deep dive into eponymythology, although on this occasion it is through the roiling ocean of gender imbalance. A recent tweet in the #FOAMed community questioned the audience's ability to identify just three female medical pioneers who had been honoured with the distinction of eponymous attribution.
The results were telling.
The thread of comments following the tweet managed to identify only 45 female eponyms. A mistake, surely. Of the thousands of eponymous terms in use, how could there be so few attributed to females?
Following this, we analysed the lists of eponyms hosted on the popular online resource, WhoNamedIt? Their alphabetical list of women eponyms boasts 131 entries. However, on closer inspection only 80 (62%) of the entries were associated with eponymous terms which included the female eponym; and of these, only 41 (31%) had a formal biography.
Further research online revealed a similar story. Even females associated with widely used eponymous terms had little to no recorded biographical information in comparison to their male counterparts. For example, Lilly Dubowitz, a paediatric neurologist who developed the Dubowitz Score with her husband Victor, is deserving only of a property based tagline as "Victor Dubowitz's wife".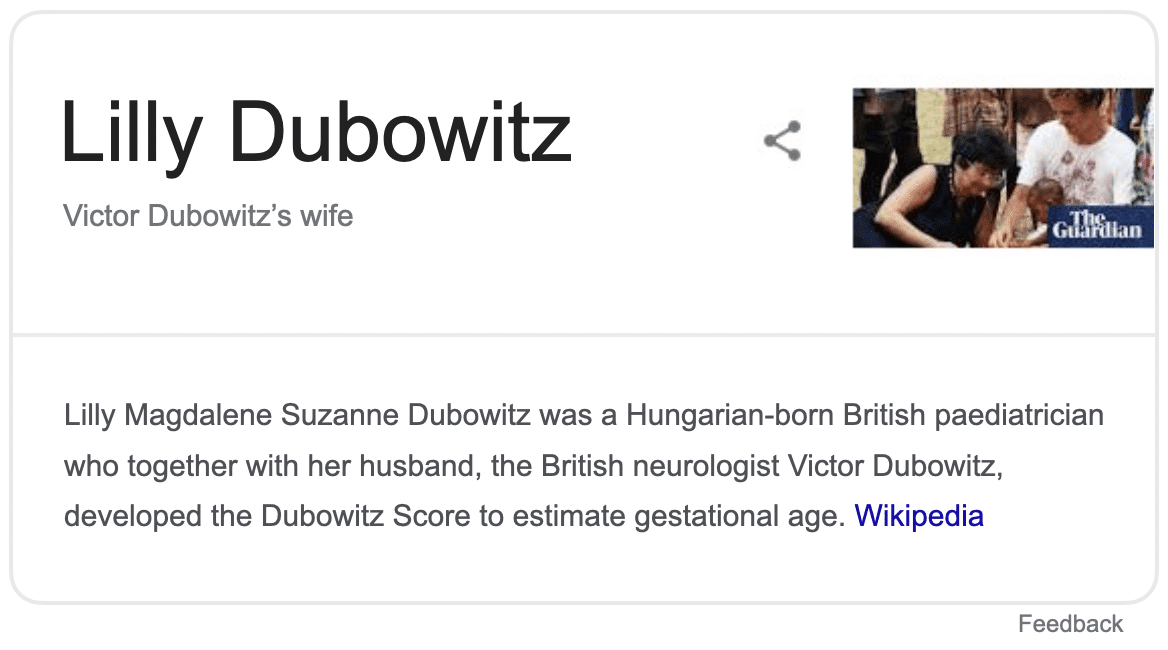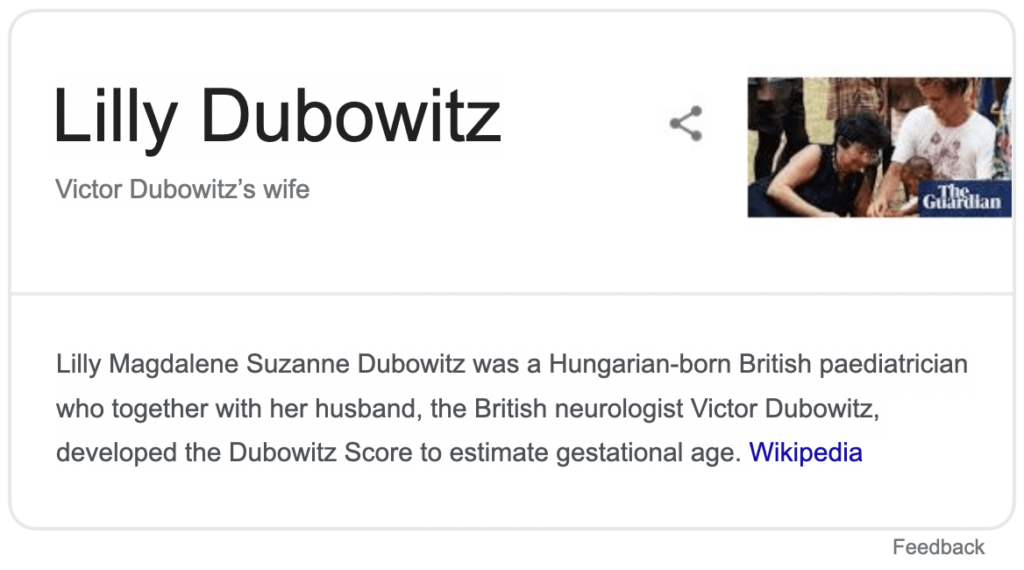 It seemed an obvious hypothesis to investigate: Women are underrepresented in the realm of medical eponyms. Once that could be proven, a biographical database of these female pioneers would be the next goal.
Table of Contents
Introduction and Background
The use of eponyms in the field of medicine has been commonplace for centuries. There is ongoing debate regarding the accuracy, effectiveness, and, more recently, cultural appropriateness of the use of eponyms, but, for the moment, they remain ingrained in medical communication.
The majority of eponymous terms were characterised prior to women being formally allowed to practice medicine. By the time women were joining their male counterparts in medicine, the period of decline of granting eponyms had begun. Eponymous terms had given way to descriptive nomenclature.
Although most eponyms now have an approved and accepted modern alternative, many clinicians continue to utilise and teach eponymous terms in their daily practice, and as they remain historically relevant, it is important to identify and celebrate the distinguished women who characterised syndromes and other medical terms that bear their names, the way we do their male peers.
Definitions
For the purposes of this review we used the following definitions.
Aims
Create a comprehensive database of eponymous terms and their related eponyms
Highlight those eponyms identifying as female and confirm a related eponymous term
Method
We interrogated our offline database of eponymous terms used for signs, syndromes, conditions, procedures, anatomical structures and classification systems compiled from textbook and online sources. We identified 7221 eponymous terms and 3504 eponyms, an average of 2 terms per author.
The year of the original publication relating to the eponymous term as well as the country of birth, sex, maiden name, marital name, occupation and date of birth/death of the eponym (author) were recorded. Resources used to interrogate the data included PubMed, National Library of Medicine, HathiTrust Digital Library, Wikipedia, WhoNamedIt?, Newspapers, Ancestry, and the Internet Archive.
Where no biographic source could be readily identified, we contacted affiliated universities, research groups and specialists to obtain further information.
Eponymous terms containing the name of at least one female eponym were extracted for further evaluation. Where an eponym has more than one associated eponymous term only the eponym and the earliest affiliated eponymous term was recorded for analysis.
Results of the search were compiled in an offline database and graphical analysis was used to compare male and female eponyms over time. Biographies for the male and female eponyms were compiled and eponymous terms defined with contextual bibliographic material.
Results
3504 eponyms were identified. Of these, there were 3374 (96%) male eponyms and 130 (4%) female eponyms.
Eponymous terms
130 female eponyms shared 156 eponymous terms, an average of 1.2 terms per author. The average number of eponymous terms per male author was 2.2 (7065/3374).
The average date of publication of an eponyms first eponymous term was 1972 for females and 1891 for males.
Biographic data
32% of female eponyms are still alive compared to 5% of male eponyms. Of those deceased the average year of birth (1907) and death (1982) for females is more recent than their male counterparts (1856/1919)
Only 43% of female eponyms had formal journal obituary or Wikipedia profile or other online biography; compared with 91% of males
Female eponyms hail from 27 different countries, but were very Americo-centric with the United States (50%), England (9%), Germany (8%), and Canada (6%) making up the majority. Male eponyms, on the other hand, were distinctly more European: with Germany making up 19%, France 16%, England 15%, and the United States 10%; almost certainly reflecting the power shifts in Empires over time.
The flavour of specialties is also unique, with female eponyms comprising geneticists, paediatricians and pathologists. The men had a preponderance of anatomists, surgeons, neurologists, psychiatrists, physicians and physiologists.
| | Male | Female |
| --- | --- | --- |
| Eponymous term per eponym | 2.2 | 1.2 |
| Still alive | 5% (180) | 32% (42) |
| Average Year of birth | 1856 | 1907 |
| Average Year of death | 1919 | 1982 |
| Average Year of publication | 1891 | 1972 |
| Journal Article / Obituary | 59% (1976) | 22% (28) |
| WhoNamedIt Profile | 92% (3102) | 32% (41) |
| Wikipedia Profile | 90% (3020) | 43% (56) |
The other relevant findings were the comparison of women in the global workforce, with the rise and fall of eponyms over time.
The peak of eponymous attribution was in the late 1800s and early 1900s with eponymous terms often being used as placeholders with the exact nature of conditions not yet understood. With better classification systems, enhanced knowledge of pathogenesis, improved global nomenclature, and a more rigorous approach to naming systems – eponymous attribution has seen a sharp decline.
In 1910 female physicians made up 1% of the medical workforce. The most rapid rate of growth has been in the last 30 years from 29% in 1990, to 38% in 2000 and 49% in 2020.
The percentage of female physician representation within the medical workforce closely matches the rate of percentage growth of eponymous terms attributed to women.
Discussion
The hypothesis, that women are underrepresented in the medical realm of eponyms, does not hold up, despite how it appears at first glance. Women achieving parity with men in the global medical workforce is relatively recent. The golden age of eponymizing was over way before this equality was reached. The peak of eponymous attribution was in the late 1800s and early 1900s, so as a proportion of women in medicine at the time, there was reasonable representation. Women never got the chance to catch up. Where there is a staggering gender mismatch, however, is in the biographical evidence available to us of these remarkable women, who, by their very nature were trailblazers.
Why should we care about this anachronistic slice of medicine? Well, we all still use eponyms. They bring colour and history to medicine. They have hidden, and often extraordinary narratives that lie beneath them: our heritage, our medical ancestry. Eponyms are given to honour such souls, the shoulders of giants upon which we sit and practice today. We know their stories through their collective biographies. The clear proportional lack of biographical data on the female eponyms, however, tarnishes this tradition.
One may argue that this is merely a historical issue, done and dusted, however we still do not have gender equity by many metrics today, even in the presence of equal (or greater) medical admission numbers. Unless we recognise the inadequacies of the past, it is difficult to progress soundly into the future.
Eponyms have other shadows. The bestowal and use of eponyms was also a little random, inconsistent, idiosyncratic, and heavily influenced by local geography and culture. Sometimes there were less than truthful accounts of how diseases were discovered; evidence being less obligatory back in the day. There is also the element of 'ownership', particularly of body parts. Nowhere is that more evident than in the pelvis, where you can't round a corner without crashing into a part with the name of some long-dead man and his flag plant on it.
Eponyms are unlikely to be granted in any number again. Thus, gender parity will not likely ever be reached in relation to terminology. We can, however, right a few wrongs, by establishing a biographical database of the pioneering woman whose names are branded on the terms that we still use in medicine today, so that they are celebrated and known in their own right, regardless of their matrimonial status.
Conclusion
Where are all the women in the history of medical eponymisation? They are present; their numbers are simply dwarfed. We can be generous and state that the reasons for the small absolute numbers merely reflect missing the boat. If eponymizing were to continue today, we might hope to see equality in the data. In the absence of possibility of this wild optimism, we can at least recognise the ones whose names we use. Not as somebody's wife, or with an epithet the biographical equivalent of a pauper's grave, but in their own right.
Watch this space for a series of biographical treats about our female medical pioneers, including a number who, until recently, had no recorded biography at all.
---
Eponymous women in medicine
Eponym
Eponymous Term
COSSART, Yvonne
Parvovirus B19 (1975)
1934
2014
Australian, Australia, Aussie, Ozzie
virologist
hepatitis, fifth disease, erythema infectiosum, hepatitis B, HBV, HPV, B19

ROBERTS, Mona Dew

Mona Roberts Airway (1916)
1878
1939
Wales, Welsh, Cymru
anesthetist, anaesthetist, anesthesiologist, anaesthesiologist
oropharyngeal airway, OPA, airway, obstetrics, ether
WHITE, Priscilla
White Classification of Diabetes in Pregnancy (1949)
1900
1989
USA, America, American
physician, obstetrical physician
diabetes, gestational, pregnancy, fetal mortality, maternal mortality, foetal mortality, pre-gestational, pregestational,
WILLIAMS, Anna Wessels
Park-Williams bacillus (1894); Williams stain (1905); Park-Williams fixative
1863
1954
USA, America, American
bacteriologist, immunologist
trachoma, rabies, diphtheria, antitoxin
VAN LOHUIZEN, Cato H J
Van Lohuizen syndrome (1922)
1893
1937
Dutch, Holland, Netherlands, Nederlands
pediatric paediatrician
Cutis Marmorata Telangiectatica Congenita (CMTC)
LAXOVA, Renata
Neu-Laxová syndrome (1971)
1931
Czech, čeština, Tschechisch
Paediatric geneticist
holocaust, nicholas winton, Polgar, PHGDH, ichthyosis, marked intrauterine growth restriction, microcephaly, short neck, central nervous system anomalies, lissencephaly
IMERSLUND, Olga
Imerslund-Gräsbeck syndrome (1960)
1907
1987
Norway, Norge, Norwegian
Paediatrician
Juvenile megaloblastic anaemia, Megaloblastic anaemia 1 (MGA 1), Imerslund anaemia, Selective vitamin B12 (cobalamin) malabsorption with proteinuria
LARSEN, Ingegerd Frøyshov
Hansen-Larsen-Berg syndrome (1976)
1937
Norway, Norge, Norwegian
Physician
total color blindness, progressive cone dystrophy, degenerative liver disease, endocrine dysfunction, Retinohepatoendocrinologic
BELL, Julia
Martin-Bell syndrome (1943)
1879
1879
England, English, UK, British
Physician
LYON, Mary Frances
Lyon hypothesis (1961), Lyonisation (1963)
1925
2014
England, English, UK, British
Cytogeneticist
HALL, Judith Goslin

Hall-Pallister syndrome (1980), Hall type of pseudoachondroplasia

1939
USA, America, American
Geneticist and paediatrician
Pallister-Hall syndrome, achondroplasia
FORBES, Anne Pappenheimer
Forbes-Albright syndrome (1954)
1911
1992
USA, America, American
Physician, endocrinologist
galactorrhea-amenorrhea caused by a chromophobe prolactin-producing adenoma of the pituitary
OPPENHEIMER, Ella Hutzler

Landing-Oppenheimer syndrome (1957)

1897
1981
USA, America
Pathologist
Ceroid storage disease in childhood, lipidoses
REED, Dorothy Mabel
Reed-Sternberg cells (1902)
1874
1964
USA, America, American
pathology, pediatric, public health
sternberg, hodgkin, lymphoma, milk, Madison, wisconsin, Mendenhall,
GRÖNBLAD, Ester Elizabeth
Grönblad-Strandberg syndrome (1929)
1898
1970
Sweden, Swedish, svenska
Ophthalmology
PXE, angiod streaks, Furusund, ophthalmologist, Pseudoxanthoma elasticum, Groenblad,
CALL, Emma Louise
Call-Exner body (1875)
1847
1937
Physician, anatomist
USA, America, American
granulosa cell tumours, Graafscher Follikel, Siegmund Exner, gonadoblastomas; sclerosing stromal tumours of the ovary; and in endometrioid carcinoma of the ovary
ASHBY, Winfred Mayer
Ashby technique (1919)
1879
1975
USA, America, American
Pathologist
pianist, rcc, rbc, erythrocyte, piano, life-span,
BARR, Yvonne Margaret
Epstein-Barr virus (1964)
1932
2016
Irish, Ireland, Southern Ireland, Australian
Virologist
Burkitt, HHSV-4, EBV
MANN, Ida Caroline
Mann classification of coloboma (1937)
1893
1983
England, English, UK, British
ophthalmologist, ophthalmic surgeon,
Australia, Perth, slit lamp, Dame, mustard gas, trachoma,
NEILL, Catherine A
Neill-Dingwall syndrome (1950), Scimtar syndrome (1960)
1921
2006
England, English, UK, British
cardiologist, paediatrician, pediatrics
scimitar, Cockayne, progeria, pulmonary hypoplasia and partial anomalous pulmonary venous return (PAPVR)
BERG, Katherine O
Berg Balance Scale (1989)
Canada, Canadian
Physio, physical therapy
frailty, balance
WATERLOW, Judy A
Waterlow score (1985)
1933
England, English, UK, British
Nurse, nursing,
pressure sore
BARTHEL, Dorothy W
Barthel index (1965)
1911
2003
USA, America, American
Physio, physical therapist
geriatrics, stroke,
ANSELL, Barbara Mary
Ansell-Bywaters-Elderking syndrome (1975)
1923
2001
England, English, UK, British
Paediatric rheumatologist
CINCA, NOMID, arthritis, pediatric, rhematology
SAKATI, Nadia Awni
Sakati-Nyhan-Tisdale syndrome (1971); Woodhouse–Sakati syndrome (1983); Sanjad-Sakati syndrome (1991)
1938
Syrian, Saudi
pediatrician
congenital, genetics, inbred
HOLT, Mary Clayton
Holt-Oram syndrome (1960)
1924
1993
England, English, UK, British
physician, cardiology
cardiac rehabilitation, ASD, hand malformations, triphalangeal,
MENTEN, Maud Leonora
Michaelis-Menten equation (1913); Menten-Junge-Green method (1844)
1879
1960
Canada, Canadian
Physician, biochemist, pathologist
Salmonella toxin, vitamin C, sedimentation, haemoglobin, protein electrophoresis,
DUBOWITZ, Lilly
Dubowitz Score (1970), Dubowitz neurology examination (1980)
1930
2016
Hungary, Hungarian, Magyar
paediatrics, pediatric, neurology
neonatology, neurological exam, tone, power, pre-term, full-term, Sebők
ANDERSEN, Dorothy Hansine
Andersen disease (1956); Cystic fibrosis of the pancreas (1938)
1901
1963
USA, America, American
Paediatrician, pediatrics
Glycogen storage disease type IV, cystic fibrosis of the pancreas, sweat test, trypsin
GAMSTORP, Ingrid
Gamstorp disease (1956); Gamstorp-Wohlfart Syndrome (1959)
1924
2007
Sweden, Swedish, svenska
Paediatric neurologist
KLUMPKE, Augusta
Klumpke palsy (1885)
1859
1927
USA, America, American
Neurologist
brachial, plexus, mother,
SANTAVUORI, Pirkko
Santavuori syndrome (1973), Muscle–Eye–Brain (MEB) disease (1977)
1933
2004
Finalnd, Suomi, Suomen tasavalta, Finnish
pediatric neurologist
Santavuori-Haltia syndrome, Hagberg, infantile neuronal ceroid lipofuscinosis, infantile onset spinocerebellar ataxia, IOSCA, INCL, MED, Jansky-Bielchowsky disease,
DE LANGE, Cornelia Catharina
Cornelia de Lange syndrome (1933)
1871
1951
Dutch, Holland, Netherlands, Nederlands
Paediatrician
Congenital hypertrophy of the muscles, extrapyramidal motor disturbances and mental deficiency
HORAN, Margaret Burton
Nance-Horan syndrome (1974)
1909
2004
Australia
pediatrician
cataracts-oto-dental, syndrome, X-linked cataract-dental syndrome, X-linked, congenital cataracts and microcornea, Hutchinson
BLACKWELL, Elizabeth
Elizabeth Blackwell Award; National Women Physicians Day

 

1821
1910
England, English, UK, British
Physician
Female Physician
WILLIAMS, Cicely Delphine
Kwashiorkor (1933)
1893
1992
Jamaica, Jamaican Patois,
Paediatrician, nutritionist, activist
advocate, world health, malnutrition, nutrition, child health, breast feeding, ackee fruit, Kwashiorkor,
DICK, Gladys Rowena
Dick Test (1924)
1881
1963
USA, America, American
physician, pathologist
scarlet fever, toxin, antitoxin, vaccine, hemolytic strep
HOGG, Georgina Ruth
Birt-Hogg-Dubé syndrome (1977)
1916
2002
Canada, Canadian
Pathologist
Hornstein-Knickenberg, fibrofolliculoma
APGAR, Virginia
APGAR score (1953)
1909
1974
USA, America, American
Anaesthetist
Paeds Score, backronym, Appearance, Pulse, Grimace, Activity, Respiration
JOSEPH, Sister Mary
Sister Joseph Nodule (1928)
1856
1939
USA, America, American
Nurse, sister
cancer, metastasis, umbilicus, adenocarcinoma, julia, dempsey, DEMPSEY, Julia, hamilton bailey, mayo
DIX, Margaret Ruth
Dix–Hallpike test (1952)
1902
1991
USA, America, American
Neurologist
Elicitation of extreme vertigo upon lateral movement of a patient's head when lying in a supine position
NITABUCH, Raissa
Nitabuch membrane
1859
Russia, Russian, Россия
Physician, anatomist
placenta, fibrinoid layer,
WINTERHALTER, Elisabeth
Winterhalter's ganglia (1896)
1856
1952
German, Germany, Deutsche, Deutschland
neuroanatomist, physician, feminist
ovary, ganglion, ganglia, autonomic,
SCHACHOWA, Seraphima
Schachowa spiral tubes
1854
Russia, Russian, Россия
histologist
tubuli renales
POTTER, Edith Louise
Potter syndrome (1946); Potter facies; Potter sequence; Potter classification of polycystic kidney disease (1964)
1901
1993
USA, America, American
pediatric, pathologist
facies, syndrome, oligohydramnios, renal agensis
BOIVIN, Marie Anne Victoire
Bivalve Vaginal Speculum (1825); Boivin Intropelvimeter
1773
1841
France, French, français
midwife
midwife, speculum
GASKIN, Ina Mae
Gaskin (all fours) manoeuvre (1976)
1940
USA, America, American
Midwife
birth, all 4's, fours, shoulder dystocia
LÜER, Jeanne Amélie
Luer Syringe (1896)
1836
1910
German, Germany, Deutsche, Deutschland
Manufacturer
Equipment, syringe
STRAUSS, Lotte
Churg–Strauss syndrome (1951)
1913
1985
German, Germany, Deutsche, Deutschland
Pathologist
Vasculitis, Eosinphilia, Eosinophilic granulomatosis with polyangiitis, EGPA
LOUIS-BAR, Denise
Louis-Bar syndrome (1941)
1914
1999
Belgium, Belgique, België, Belgien, Flemish
Neuropathologist
ataxia telangiectasia
OLLENDORF, Helene
Buschke-Ollendorff syndrome (1928)
1899
1982
Germany, Deutschland
dermatologist
CURTH, Helene Ollendorff
Curth-Macklin syndrome (1954); Ollendorf probe sign (1923); Buschke-Ollendorff syndrome (1928); Curth's criteria for the diagnosis of cutaneous paraneoplastic syndromes (1976)
1899
1982
Germany, Deutschland
dermatologist
WALKER, Mary Broadfoot
Mary Walker Effect (1934)
1888
1974
Scottish, Scotland
Physician
physostigmine, neostigmine, prostigmin, Myasthenia Gravis,
WOLCOTT, Carol Nancy Dettman
Wolcott-Rallison syndrome (1972)
1941
1994
USA, America, American
pediatrician
DE BARSY, Anne-Marie
de Barsy syndrome (1938)
1939
Belgium, Belgique, België, Belgien, Flemish
neurologist
WARBURG, Mette
Walker-Warburg syndrome (12971)
1926
2015
Danish, Denmark, Dansk
ophthalmologist
WYNNE-DAVIES, Ruth
Wynne Davies Ligamentous Laxity (1970)
1926
2012
England, English, UK, British
orthopaedic, genetic
genetics, scoliosis,
KLUMPKE, Augusta
Klumpke paralysis
1859
1927
USA, America, American
Neurologist
palsy, paralysis
NOONAN, Jacqueline Anne
Noonan syndrome (1968)
1921
USA, America, American
pediatrician, cardiologist
SGARBOSSA, Elena B
Sgarbossa criteria (1996)
Argentinian, Argentina
Cardiologist
Chest Pain, Criteria
FREY-GOTTESMAN, Lucja
Frey syndrome (1923)
1889
1942
Poland, Polska
Physician
hyperhidrosis, lemon, auriculotemporal syndrome, parotid gland, gun shot wound, jewish, concentration camp, ghetto
HURLER, Gertrud
Hurler syndrome (1920); Hurler-Scheie syndrome (1962)
1889
1965
German, Germany, Deutsche, Deutschland
Paediatrician
MPS, gargoyle, gargoylism, Mucopolysaccharidosis, MPS 1, MPS 1-H,
CANAVAN, Myrtelle May
Canavan disease (1931)
1879
1953
USA, America, American
Neuropathologist
spongy
LÉVY, Gabrielle
Roussy-Lévy syndrome (1926); Lhermitte-Lévy syndrome (1931)
1886
1935
France
Neurologist
CANADA, Wilma Jean
Cronkhite-Canada syndrome (1955)
1926
2017
USA, America, American
Radiology, radiologist
polyposis, ectodermal, diner
KNICKENBERG, Monika
Hornstein-Knickenberg syndrome (1975)
German, Germany, Deutsche, Deutschland
Dermatology
Birt-Hogg-Dubé, perifollicular fibromas, extracutaneous cancer, colon polyps
MERRITT, Katharine Krom
Kasabach–Merritt syndrome (1940)
1886
1986
USA, America, American
pediatrician, physician
thrombopenic purpura, hemangioma
ABBOTT, Maude Elizabeth
Rokitansky-Maude Abbott syndrome (1924)
1869
1940
Canada, Canadian
Pathology, pathologist
ostium primum, mitral valve, congenital cardiac disease
MACKLIN, Madge Thurlow
Curth-Macklin syndrome (1954)
1893
1962
USA, America, American
geneticist
eugenics, canada, icthyosis, IHCM,
BONNEVIE, Kristine Elisabeth Heuch
Bonnevie-Ullrich syndrome (1934, 1936)
1872
1948
Norway, Norge, Norwegian
Biologist, geneticist, zoologist
zoology, house mouse, micro bleb, polydactyly
DABSKA, Maria Magdalena
Dąbska tumor (1969)
1921
2014
Poland, Polish, Polskie, Polska
pathology, pathologist, oncologist
Parachordoma, surgical pathology,
CORI, Gerty Theresa
Cori cycle (1929); Cori ester (1936)
1896
1957
Czech, čeština, Tschechisch, Czech Republic, Česká republika
biochemist
G1p, glucose, glycogen
SCHACHENMANN, Gertrud Dina
Smith-Theiler-Schachenmann syndrome (1966)
1910
1997
Swiss, schweizerisch, Switzerland,
Pediatrician
rib widening, microganthia
KLEEFSTRA, Tjitske
Kleefstra syndrome (2006)
1970
Dutch, Holland, Netherlands, Nederlands
clinical genetics, geneticist
Kleefstras syndrom, 9q subtelomere deletion syndrome (9qSTDS), EHMT1, haploinsufficiency
GARRETT ANDERSON, Elizabeth
1836
1917
England, English, UK, British
Physician
first female physician in the UK
WELANDER, Lisa
Welander distal myopathy (1951); Kugelberg-Welander syndrome (1956)
1909
2001
Sweden, Swedish, svenska
Neurologist
SABIN, Florence
Mees lines (1901)
1871
1953
USA, America, American
Anatomist, scientist, medical research
JOHANSON, Ann J
Johanson-Blizzard syndrome (1971)
1934
2020
USA, America, American
Paediatric endocrinologist
short stature, growth hormone, Turner,
LøKEN, Aagot Christie

Senior-Løken syndrome (1961)

1911
2007
Norway, Norge, Norwegian
Neuropathologist
CANALE, Virginia Claire
Canale-Smith syndrome (1967)
1936
2005
USA, America, American
pediatric Haematologist
Chronic lymphadenopathy simulating malignant lymphoma
KAVEGGIA, Elizabeth Gathy
Optiz-Kaveggia syndrome (1974) [FG Syndrome], Kaveggia syndrome (1975)
1926
2014
Hungary, Hungarian, Magyar
Paediatrician, geneticist
rain man, dustin hoffman, vermis
BABER, Margaret Doreen
Baber syndrome (1956)
1910
1997
Wales, Welsh, Cymru
paediatrician, pediatric
cirrhosis, amino-aciduria, Fanconi
ILLIG, Ruth
Illig syndrome (1970)
1924
2017
German, Germany, Deutsche, Deutschland
pediatric endocrinologist
BIANCO-SILVERSTRONI, Ida
Silvestroni-Bianco anaemia (1948)
1917
2006
Italy, Italia
Physician, hematologist
thalassemia, hematology, Italy
AL-GAZALI, Lihadh
Al Gazali Syndrome (1994); Al-Gazali-Bakalinova syndrome (1998)
Iraq, UAE, Arab
genetics, research, pediatric, paediatric
NELSON, Matilda Mary
Emery-Nelson syndrome (1970)
1930
2010
England, English, UK, British, south african, south africa
Geneticist, human genetics
NOACK, Margot
Noack syndrome (1959)
1909
German, Germany, Deutsche, Deutschland
orthopedic, pediatric
Apert, Pfeiffer, Oegg, acrocephalosyndactyly
GOUTIERES, Francoise
Aicardi-Goutieres syndrome (1984)
France, French, français
neurologist, pediatric
TOLKSDORF, Marlis
Wiedemann-Tolksdorf syndrome (1973)
1924
German, Germany, Deutsche, Deutschland
Paediatrician, pediatrics, cytogenetics
ANDERSEN, Ellen Damgaard
Andersen syndrome, Andersen-Tawil syndrome (1971)
Denmark, Danmark
Physician
SCHNITZLER, Lilane
Schnitzler syndrome (1972)
1938
France, French, français
dermatologist
BLOOMBERG, Esther Lillian
Albright-Butler-Bloomberg disease (1937)
1907
USA, America, American
chemist, technician
DIESENDRUCK, Judith Abarbanel
Nelson-Diesendruck basal medium (1952)
1920
2007
Russian born, USA, America, American
Bacteriologist
Jewish, Zionist, Pioneer Women, American Professors for peace in the Middle East
HARPER, Rita Gilman
Harper syndrome (1967)
1934
USA, America, American
Physician
Seckel syndrome, bird-headed
CHRISTOL, Bernadette
Bazex-Dupré-Christol syndrome (1964)
1934
2011
France, French, français
dermatologist
JALBY, X-linked, congenital hypotrichosis, follicular atrophoderma, basal cell neoplasms
SAKURAI (Kitagawa), Tsuya
Sakurai-Lisch nodules (1935)
1911
1995
Japanese. Japan, 日本語
physician, ophthalmologist
HECHT, Jacqueline Tauber
Hecht-Scott syndrome (1981)
USA, America, American
Geneticist and paediatrician
FACTO, dwarfism, Fibular aplasia-tibial campomelia-oligosyndactyly
HERTWIG, Paula

Hertwig-Weyers syndrome (1942)

1889
1983
German, Germany, Deutsche, Deutschland
Biologist
MYHRE, Selma Ann
Mhyre syndrome (1981)
1937
2012
USA, America, American
pediatric, pathology, Geneticist
Hageman
WARBURG, Mette

Walker-Warburg syndrome (1971)

1926
2015
Danish, Denmark, Dansk
ophthalmologist
DEES, Susan C
Aldrich-Dees syndrome (Wiskott-Aldrich syndrome)
1909
2001
USA, America, American
Paediatrician
asthma, allergy,
SMITH, Ann C. M.
Smith-Magenis syndrome (1986)
USA, America, American
genetic counselor, geneticist
morrison, chisholm,
MAGENIS, Ruth Ellen
1925
2014
USA, America, American
Geneticist, pediatrician, paediatrician
chromosome 15, angelman, prader-willi, 7 children,
DUDLEY, Florence Chisholm
Allan-Herndon-Dudley syndrome (1943)
1902
1962
USA, America, American
assistant in medical genetics
WOLCOTT, Carol Nancy Dettman
Wolcott-Rallison syndrome (1972)
1941
1994
USA, America, American
Paediatrician, pediatrics
IDDM, Early-onset diabetes mellitus with multiple epiphyseal dysplasia
SHAFFER, Lisa G.
Potocki‐Shaffer syndrome (1996)
USA, America, American
Geneticist
POTOCKI, Lorraine
Potocki-Lupski syndrome (2000); Potocki‐Shaffer syndrome (1996)
FITTKE, Hildegard
Debré-Fittke syndrome (1942)
MEYER, Julia G.
Say-Meyer syndrome (1981)
GRANGE, Dorothy K
Grange syndrome (1998)
USA, America
Geneticist
GOLABI, Mahin
Simpson-Golabi-Behmel syndrome
USA, America, American
Paediatrician
LUND, Valerie J
Lund-Mackay score (1993)
England, English, UK, British
rhinologist, ENT
radiologic staging of chronic rhinosinusitis
TINETTI, Mary E
Tinetti test (1986)
USA, America
Physician
Balance, Gait Test

BAKER, Kate

Baker-Gordon syndrome (2018)
Australia, Australian, Ozzie
Physician
SYT1-associated neurodevelopmental disorder
GORDON, Sarah
Baker-Gordon syndrome (2018)
Australia, Australian, Ozzie
Physician

FLAITZ, Catherine M

Atkin-Flaitz syndrome (1985)
USA, America, American
oral and maxillofacial pathologist and paediatric dentist
ATKIN, Joan F
Atkin-Flaitz syndrome (1985)
USA, America, American
Physician, anatomist
BEHMEL, Annemarie
Simpson-Golabi-Behmel syndrome (1984)
Geneticist
FOWLER, Clare Juliet
Fowler syndrome (1985)
1950
England, English, UK, British
urologist, neuro-urologist
TORIELLO, Helga V.
Toriello‐Carey syndrome (1988)
1952
USA, America
genetics, geneticist
Corpus callosum agenesis facial anomalies Robin sequence; Corpus callosum agenesis-blepharophimosis-Robin sequence syndrome; Agenesis of corpus callosum
YOUNG, Freida
Dyke-Young anaemia (1938)
1910
2004
England, English, UK, British
Pathology, pathologist
DRAVET, Charlottte
Dravet syndrome (1982)
1936
France, French, français
Psychiatrist, Epileptologist
severe myoclonic epilepsy of infancy SMEI
MENDE, Irmgard
Mende syndrome (1926)
Germany, Deutschland
Physician
LUTZ-RICHNER, Anna-Regula
Lutz-Richner and Landolt syndrome (1973)
1942
Switzerland
Paediatrician
THERMAN, Eeva
Patau syndrome (1960)
1916
2004
Finland, Suomi, Finnish,
cytogenetecist
Lilly of the Valley, trisomy 13
VOGT, Cécile
Vogt-Vogt syndrome
1875
1962
German, Germany, Deutsche, Deutschland
neuropathologist
BEIGHTON, Greta
Beighton Score (1971)
1939
2017
England, English, UK, British, South Africa
nursing, genetics, history
genetics, hypermobility, score, laxity, joint
PAGON, Roberta Anderson
Pagon syndrome (1985)
1945
USA, America, American
Paediatrician, pediatrics, genetics
LANCEFIELD, Rebecca Craighill
Lancefield classification, Lancefield method (1928)
1895
1981
USA, America, American
Bacteriologist
BHS, hemolytic, haemolytic, strep
---
References
---
Cite this article as:
Jenny Stuart-Smith, Kathryn Scott and Michelle Johnston, "Where are all the Women?," In:
LITFL - Life in the FastLane
, Accessed on June 3, 2023,
https://litfl.com/where-are-all-the-women/
.
---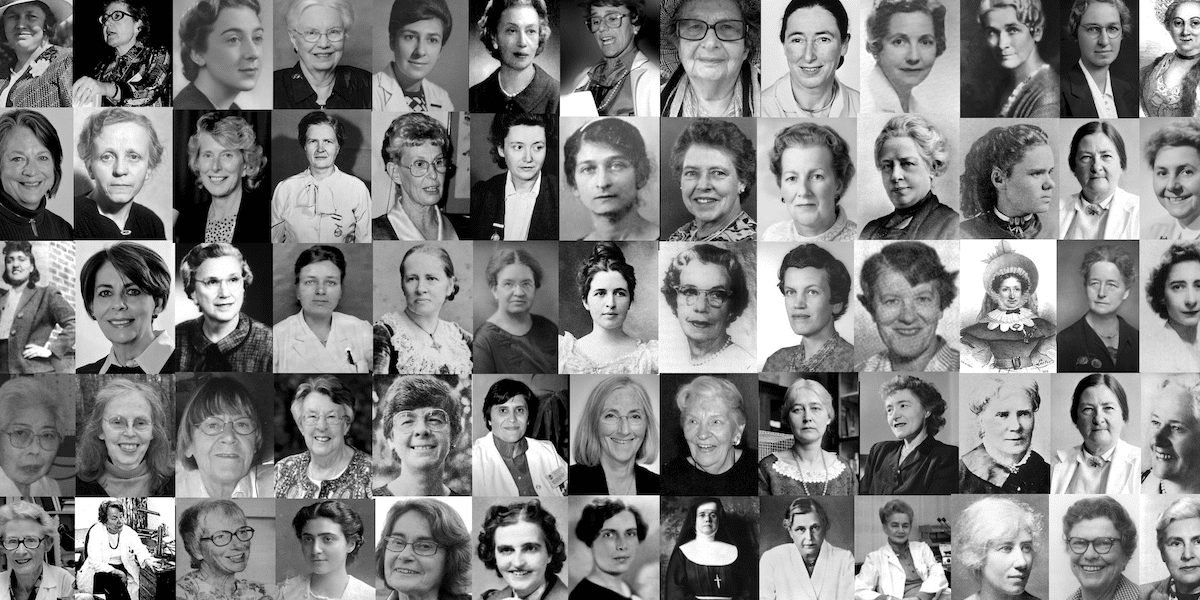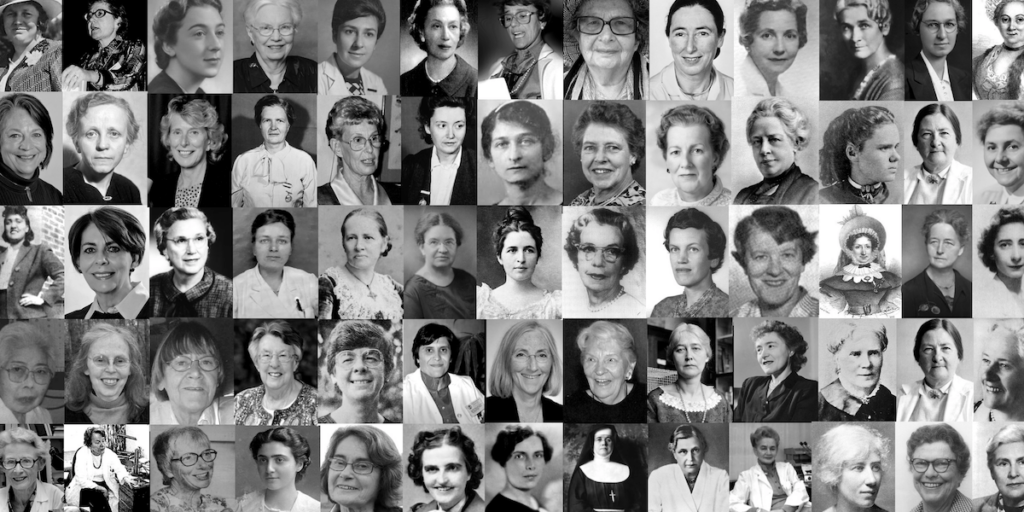 eponymictionary
the names behind the name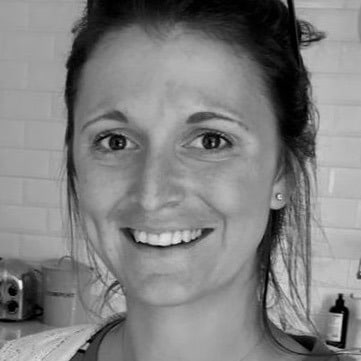 Graduated from Cardiff Medical School in 2017 with MBBCh and BSc in Psychology and Medicine. Currently working as a doctor in the emergency department at Sir Charles Gairdner Hospital in Perth, Australia.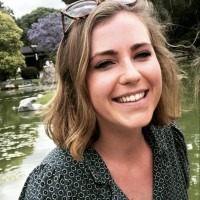 Graduated from Southampton Medical School in 2017 with BMBS. Working in Sir Charles Gairdner Hospital Emergency Department in Perth, Australia.
Emergency physician. Lives for teaching and loves clinical work, but with social media, she is like the syndromic cousin in the corner who gets brought out and patted on the head once in a while | Literary Medicine | @eleytherius | Website |